Lifelong Learning at the Library
Multilingual interpreter. Lionfish hunter. Master Naturalist. Believe it or not, these aren't the professions of characters from recent bestsellers - they're areas of expertise belonging to some of our incredible staff here at HCPL. In addition to library collections and programs, our staff members serve as incredible resources for the community. As students head back to school this fall, remember it's never too late to learn something new and expand your knowledge and skills, especially with a little help from library staff. Read on to learn about some HCPL staff specialties, and stay tuned to our blog over the coming months to get to know more about the diverse skillsets of our amazing staff.
MEET OUR STAFF
Meet our staff! Stay tuned to blog posts over the coming months to get to know some of the wonderful folks at HCPL.
This month we're featuring life-long learners with backgrounds in audio mixing and recording, natural science, video production, the visual arts, language, travel, typewriter repair, and even scuba diving!
NICK ADAMS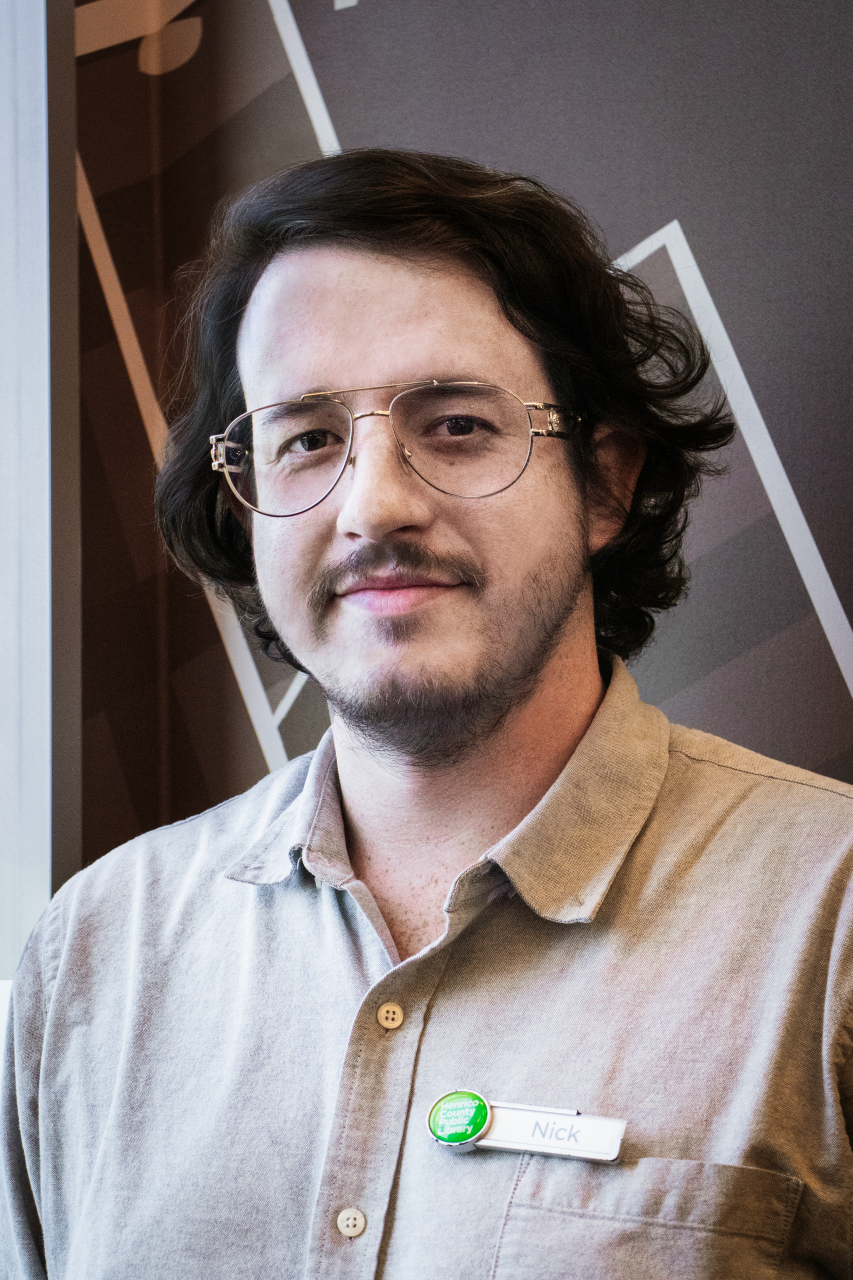 In addition to working in the Teen department at Libbie Mill, Nick Adams is also an audio professional. Before moving to Richmond and eventually joining HCPL, Nick mixed live sound at a number of music venues and clubs in New York City. He's also mixed and recorded artists in studio settings. Although his hectic live sound days are mostly behind him, he still occasionally mixes albums from the comfort of his home studio. Some of his recent work includes Smut's 2022 Album "How the Light Felt," Matt Watson's 2022 Album "SEE YOU THERE," and occasional remixes and original productions for artists on the 100% Electronica label. He is more than happy to assist library patrons with audio questions and is rather excited when he gets to do so.
TRACEY BROCKWELL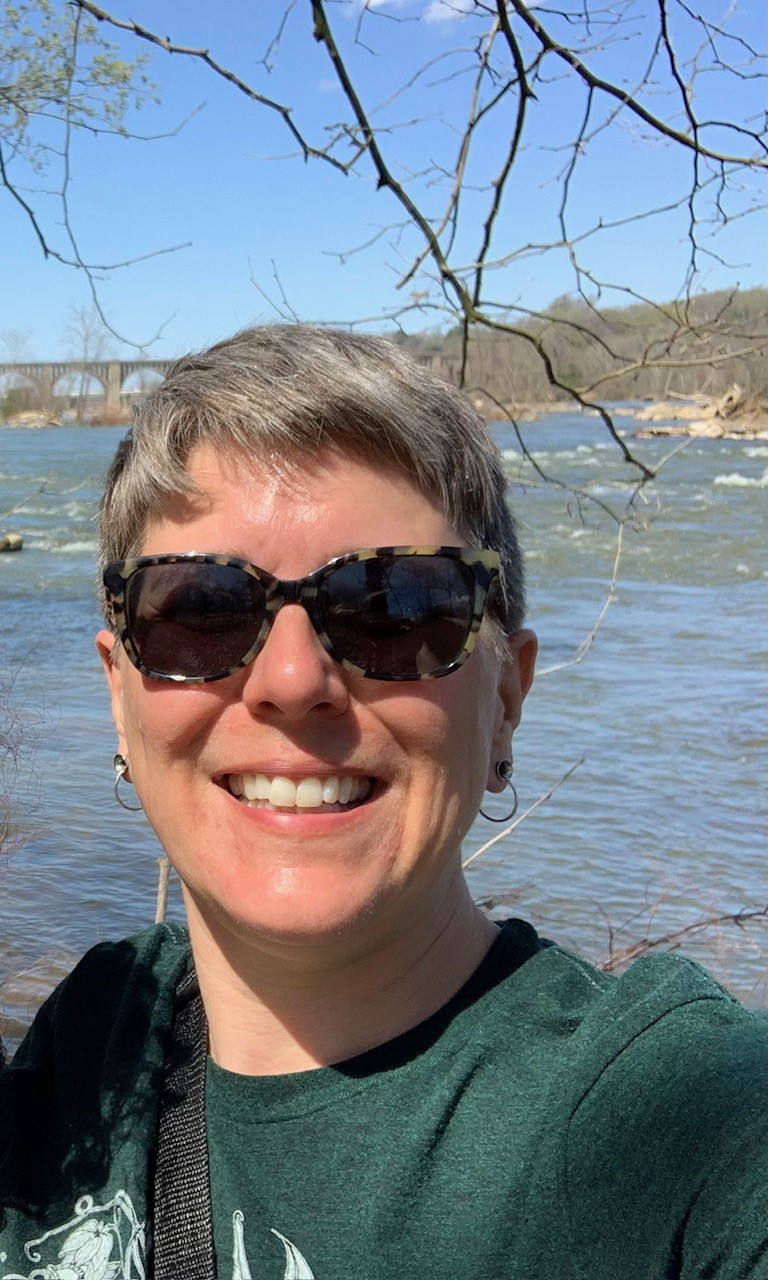 Tracey's love for the natural sciences began early as a child roaming the ravines around the James River of Piedmont Virginia. This led to a lifelong interest in the sciences and the natural world, and many exciting opportunities. She worked as a historical interpreter at Chaco Canyon National Historical Park in New Mexico, where she also volunteered with the observatory and found an interest in photographing stars. This provided the opportunity for her to work as an astrophotographer at Siding Spring Observatory in Australia for four months. As an educator, she has worked for the Science Museum of Virginia, Montessori and elementary schools, and the JRNEY (James River Nature and Ecology Youth) Center, which she founded. She also completed Master Naturalist and American Canoe Association trainings. Since working for Henrico County Public Libraries, Tracey has brought her love of science and the outdoors to the programs she plans. The Nature Study series she presented at Libbie Mill Library won a NACO Award in 2017. She continues to incorporate environmental science and citizen science into her library programs, including a recent series with the Master Gardeners. She can still be found playing and exploring in and around the James River and other wild places as she volunteers, hikes, kayaks, and visits parks as often as possible.
DEE DEMETRIADIS
Dee's area of expertise is video production and she teaches the introductory video production classes (Adobe Premiere Basics, Video Shooting Basics) at Libbie Mill Library. Dee is a graduate of Meadowbrook High School and its video production program and earned her B.A. in TV/Video production from Emerson College in Boston, MA. She has spent nearly 25 years working for video production companies and clients in a variety of production roles including production assistant, camera operator, editor, interviewer, field producer, and director. Clients have included CNN, The Travel Channel, Comcast, the Richmond SPCA, Chesterfield County Public Schools, Advanced Visual Production, and numerous video production companies across the state of Virginia. She also worked for two years as A/V Staff aboard Carnival Cruise Lines and has produced several comedy video shorts for Richmond's Coalition Theater. Dee continues to pick up freelance work and passion projects as her schedule allows.
LEA MCMAHAN-WIMPLINGHER
One of Lea's favorite things about working in libraries is getting to be a jack-of-all-trades. They approach life with enthusiasm and a willingness to try anything, at least once, and through that they've learned some pretty unusual and awesome things!
They've been lucky enough to travel to Peru, where they fell in love with backpacking while studying abroad. Now they're section hiking the Appalachian Trail, and it's their goal to hike all of it someday! While traveling they also learned how to SCUBA dive, and have started collecting certifications – wreck diving, night diving, deep diving – but their favorite of all is lionfish culling! They've been certified to be able to safely spear hunt lion fish to protect coral reefs, as these beautiful but dangerous fish are invasive in the Atlantic and Caribbean and threaten marine ecosystems.
When they're home, their favorite things to do are create, tinker, explore, and travel through letters with pen pals from around the world! Their love for letters and writing made them interested in typewriters, and now they're hooked on antique typewriter repair. They also watercolor, garden on their tiny apartment porch, knit lumpy scarves, do dramatic SFX makeup for fun, sew, create costumes, fight zombies in a live action post-apocalyptic horror survival game, and practice roller skating.
While Lea doesn't get to cull lionfish or repair typewriters at the library, they try to bring their passion for learning and sense of adventure into the programs they design. They also try to make the library feel welcoming and fun for everyone. Stay curious, y'all!
NATASHA PAYNE-BRUNSON
Known as "The Artsy Librarian," Natasha Payne-Brunson received a degree in Painting and Printmaking at Virginia Commonwealth University, one of the top programs of its kind in the country. After working at Richmond Public Library (RPL) as an Assistant, she earned a Master of Science in Library Science degree from Clarion University, and was promoted to Young Adult Services Coordinator for the RPL System. Drawing upon her background in the Arts, Natasha created creative opportunities for teens in Richmond, partnering with local arts organizations to provide world-class educational opportunities to city teens at no cost. At the time, Teen library service was a growing field, and Natasha spearheaded a system-wide teen coordinating committee at RPL and founded a Teen Advisory Board. She also managed content creation for RPL's first social media accounts and their website. Natasha's library management, tech, and artistic skills positioned her perfectly for her next role as Teen Services and Digital Media Lab Supervisor at Varina Area Library starting in 2016. Natasha has used the arts and technology to build a thriving teen department at Varina. As a member of the NASA @ My Library committee, she guided HCPL's participation in the national initiative to increase access to STEM programs through libraries. She champions diverse and inclusive reading material so that teens can see their identities represented in library collections. She has developed impactful program series that emphasize art and technology, celebrate and educate about Black history and African culture, and draw from pop culture trends to engage Varina teens. In addition to her library work, she has illustrated three books for children and teens, including Malik's First Job: Financial Tips for Teens and Young Adults by Kerwyn Phillip, and the recent Love Makes the World Go 'Round by Dr. Adam Starks. The latter features success stories about foster children and adopted children and the foster parents who supported them along the way, with the goal to promote foster care and adoption.
WAHEED SABAWOON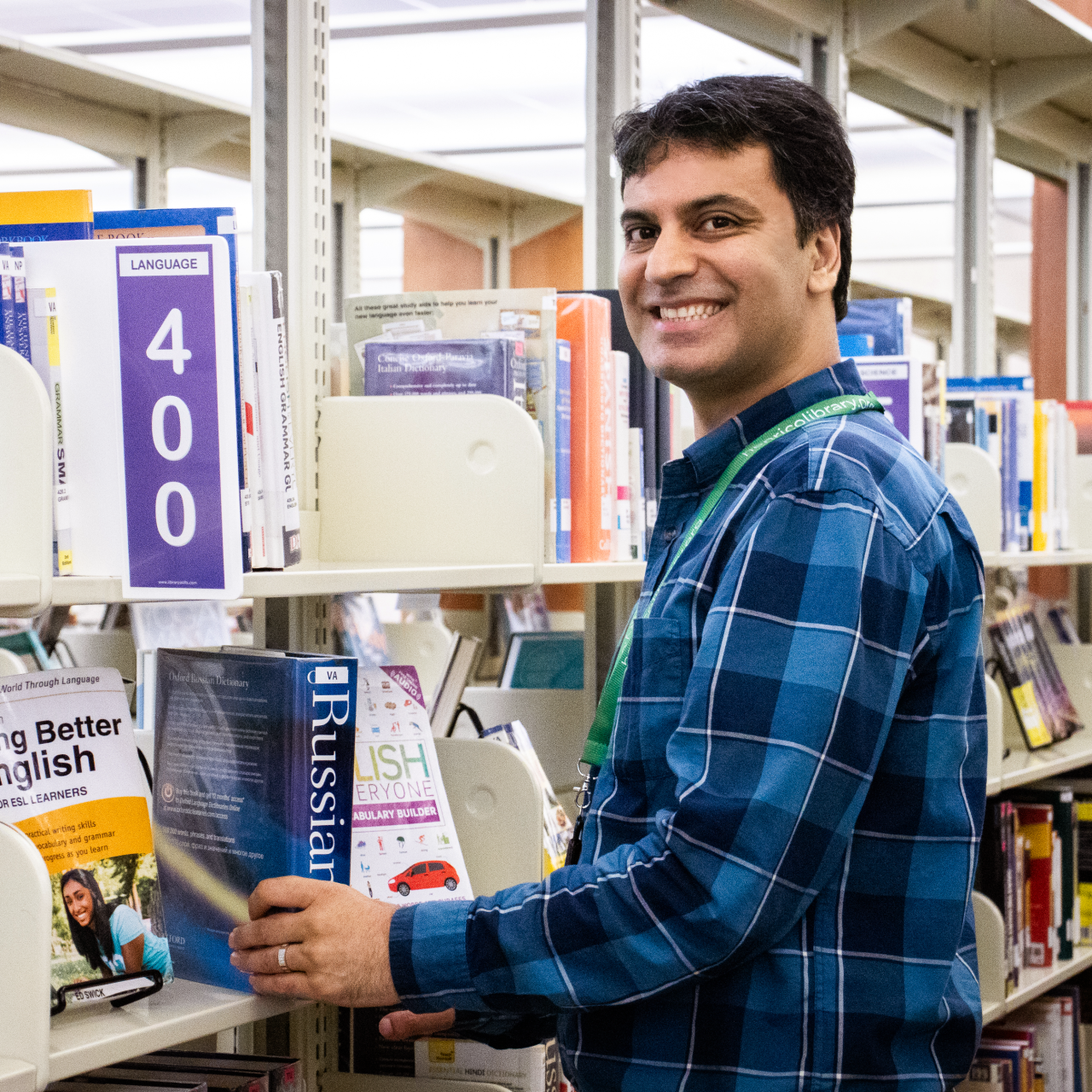 Waheed Sabawoon, a native of Afghanistan, is a multilingual who works at Tuckahoe Area Library. He speaks Pashto, Persian (both Dari and Farsi dialects), and English fluently, and basics in Arabic and Russian. Pashto and Dari are official languages in Afghanistan, and Waheed grew up with these two languages at home and at school. Waheed is from the western part of Afghanistan, close to Iran. The geographical proximity to Iran, and language and cultural similarities in the region, have helped Waheed pick up the Farsi dialect. Waheed learned English as a second language in Afghanistan and the U.S. Throughout his middle and high school years, Waheed took Arabic classes, and as a young kid he attended elementary school with Russian speaking children. Waheed believes in the magic of languages and thinks it is a privilege to be able to serve patrons in their language.
LEARN SOMETHING NEW: LIBRARY RESOURCES
Get a library card and access a lifetime of learning:
Stay Informed
When you subscribe to the blog, we will send you an e-mail when there are new updates on the site so you wouldn't miss them.
Comments
No comments made yet. Be the first to submit a comment