2022 Summer Reading Wrap-Up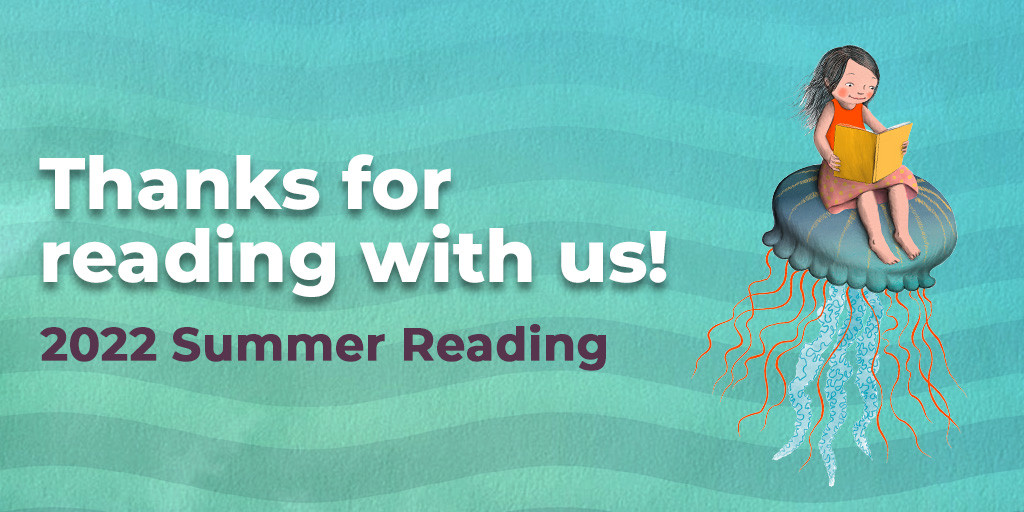 That's a wrap! Summer Reading has come to a close and we can't thank you enough for reading with us. Whether you explored new books, programs, or challenges (or all of the above), we hope you enjoyed diving into oceans of possibilities at the Library. Read on to get some final Summer Reading stats and view our grand prize winners.
Summer Reading helps all of us to keep our reading skills sharp over the summer. For students, this helps to maintain the progress in reading that was earned over the previous school year. You all worked hard to keep reading and learning this summer.
Here's a rundown of your collective accomplishments:
Books logged: 77,402
Reviews submitted: 4,116
Activity badges earned: 4,608
Your fantastic book reviews have certainly added new titles to our reading lists! Here is a small sample of what you read this summer:
The Pigeon Has to Go to School by Mo Willems, reviewed by Adrina, Age 6, Twin Hickory

"The Pigeon Has to Go to School is about a pigeon who doesn't want to go to school. My favorite part was when the Pigeon said, 'Wazza wazza wha!' The pigeon is the only character in the book. It was an amazing book!"
Dry by Neal Shusterman, reviewed by Emma, Age 16, Gayton

"An incredible review of the faults of humanity. Engaging, and scarier than some of the horror books I have read recently. The sheer amount of human desperation left me feeling thirsty, and left me altering my habits subconsciously. A must read for environmental activists, psychological thriller enthusiasts, and anyone who lives in a place dealing with water crisis."
Daughter of the Moon Goddess by Sue Lynn Tan, reviewed by Katterina, Glen Allen

"I absolutely loved this book! It was a fun read. The characters are all well written and I can't wait to see what it happens in the second book."
The Golden Tower by Holly Black, reviewed by Nazifa, Age 14, Tuckahoe

"This book was a great finale for the Magisterium series. It answered the unsolved questions and provided a satisfying ending for readers. The book itself was great with its plot and twists."
The Bridge Kingdom by Danielle Jensen, reviewed by Elizabeth, Sandston

"So it's predictable. However, that doesn't mean it's not a good book. Sometimes you need a comfort read. Sometimes you need to read about a trained assassin falling in love with a mysterious warrior king and soul crushing betrayal."
How to Money by Jean Chatzky, reviewed by Abigail, Age 14, Fairfield

"This book is very detailed and teaches you a lot about money and how to be smart with it."
Adventuring Together by Greta Eskridge, reviewed by Amanda, Varina

"A must read!! Greta writes with passion and love and it conveys off the pages. Learning to connect with our children, through adventures of all kinds, leads to a lifelong relationship we all should desire. Very quick read. Encouraging and real. I will for sure re-read many times."
Many of you participated in our activity challenges and shared some great thoughts about what you've learned and done this summer. Here are just a few standouts:

Read a book about an artist or art movement that you would like to learn more about. Let us know what you read:
"I read about contemporary art in the Deep South in preparation for a museum visit!" – Emma, 11th Grade, Gayton
Read a book about sports or games. Let us know what you read:
"I read Roller Girl by Victoria Jamieson. The main character, Astrid, developed a love for roller derby and decided to join a summer roller derby camp. In the book, it describes some of the rules, such as the position of a jammer and a blocker." - Aasiyah, 6th Grade, Glen Allen
Learn something new by watching a nature documentary, like this young reader, who watched a film about rainforests:
"It had lots of helpful and interesting knowledge in it. It reminded me how much we all need to work harder to help protect our rain forests!" – Trevor, 4th Grade, Gayton
"I watched a National Geographic shows about whales. I learned they can communicate by making whistles." - Michael, 5th Grade, Sandston
Read a book set in a place you would love to visit. Tell us where you "went."
"I read a book about the Grand Canyon last week it was cool and I would love to go some time and see all the animals." - Judah, 8th Grade, Varina
"I would love to travel to Ireland. The little villages described in The Library at the Edge of the World sound so lovely and I would like to see where my ancestors came from." – Courtney, Glen Allen
"In the book they go to the pond to find stuff, I want to go to the pond and find stuff too." – Marileen, Preschool, Varina
Start a new hobby like birdwatching, startgazing, or knot-tying by borrowing a how-to book from the Library. Let us know which hobby you are exploring.
"I am learning to bake new things. I am getting ready to bake my own birthday cake from scratch." - Sophia, 7th Grade, Fairfield
We can't forget our awesome grand prize give aways! Congratulations to our big winners:
Yeti Cooler
Ellis D. – Twin Hickory
Nintendo Switch
Tess L. – Libbie Mill
Children's Museum of Richmond
Desmond M. – Gayton
Lewis Ginter Botanical Garden
Navy Grace S. – Glen Allen
Science Museum of Virginia
Winnie D. – North Park
And if you're not a grand prize recipient, remember that everyone is a winner during Summer Reading! Challenge finishers can stop by their library to pick up a prize book (kids and teens) or book sale coupon (adults).
Ready for a new challenge? Check out our 1000 Books Before Kindergarten program, sponsored by the Friends of the Library. Need help getting started? Attend our First 10 Books of Your 1000 Books Before Kindergarten program to get registered and start logging titles. Plus, stay tuned for more details about our upcoming reading challenge for teens!
Stay Informed
When you subscribe to the blog, we will send you an e-mail when there are new updates on the site so you wouldn't miss them.