Celebrating Picture Books at the Library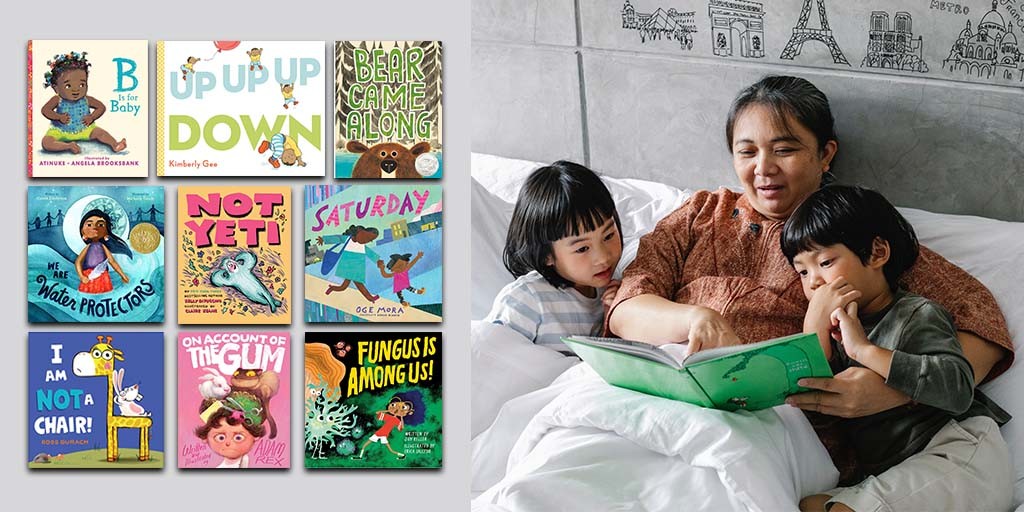 November is Picture Book Month. We are celebrating these powerful stories, when an engaging text is paired with art that both enhances and elucidates the story line. Keep reading for some expert tips on getting started with reading picture books together with the little ones in your life, plus some recommended titles!
Why Picture Books?
According to early literacy expert Saroj Ghoting, "Shared reading (interactive reading) is the single most important activity to help children get ready to read." Reading together introduces rich language to young children – words not typically heard in spoken language, thereby creating a stronger base for reading comprehension. It strengthens the parent/caregiver-child bond, and, in a word, it's fun!
What to do with a child who can't sit still for a story?
If your child just can't seem to sit still for a story, you have a variety of options. First, make reading time a special time by including a favorite blanket or stuffed animal, and choose a time when you're both receptive. Make a routine of reading time right before bed or after a nap so your child knows what to expect. For extra wiggly kiddos, you might offer a toy they can play with while they listen.
The value of presentation
As professional storytellers would undoubtedly say, presentation makes all the difference. When reading aloud, channel your inner actor, varying the tone and pitch of your voice, and even try out distinctive voices for the characters. It doesn't have to be a performance, though. An interactive reading experience invites children to engage with the text. Periodically stopping to ask questions and being responsive to their comments provides additional benefits to the developing brain and adds to the overall enjoyment of reading time.
What to choose?
With children 18-36 months, often the most active due to their rapidly developing brains, consider choosing picture books with short texts and simple stories featuring children of a variety of backgrounds and identities.
For ages 3-5 you can select longer texts. While allowing them to select their book is always a good idea, you might also want to introduce them to a book of your choosing, perhaps tying it to an activity you shared together. If you recently took a walk in the park and spotted some turtles, try a book about pond life. Capitalize on anything they find interesting, or even book tie-ins with their favorite television show. A wide variety of books is optimal. While you might be tempted to just read books about railroads with your train-obsessed preschooler, try including informational texts on other topics, allowing them to hear a wider scope of words.
Picture books are great choices for elementary students as well. Children ages 5-7 particularly enjoy choosing their own books, so a weekly or semi-monthly outing to the library is a great addition to their routine. While the bulk of picture books target young children, many are written for an older audience and may be a welcome addition to family read aloud time.
Looking for some recommended titles? Consider checking out the selections below, or submit a request through My Next Read: Kids for a personalized list of suggestions.
Happy reading!
Books for Newborns to Age 3
B is for Baby by Atinuke.
A Book of Babies by Il Sung Na.
Brown Baby Lullaby by Tameka Fryer Brown.
Up, Up, Up, Down by Kimberly Gee.
Books for Ages 3-6
Bear Came Along by Richard T. Morris.
Bowwow Powwow by Brenda J. Child.
Piranhas Don't Eat Bananas by Aaron Blabey.
Something's Wrong! by Jory John.
We are Water Protectors by Carole Lindstrom.
Books for Ages 4-7
The Bruce Swap by Ryan T. Higgins.
Not Yeti by Kelly DiPucchio.
Oh Look, a Cake! By J.C. McKee.
Pacho Nacho by Silvia López.
Saturday by Oge Mora.
Books for ages 5-7
Hippos are Huge! By Jonathan London. (nonfiction)
I Am Not a Chair! by Ross Burach.
On Account of the Gum by Adam Rex.
Books for Ages 6-8
Fungus is Among Us! by Joy Keller. (nonfiction)
When My Cousins Come to Town by Angela Shanté
Stay Informed
When you subscribe to the blog, we will send you an e-mail when there are new updates on the site so you wouldn't miss them.
Comments
No comments made yet. Be the first to submit a comment