Native American Heritage Month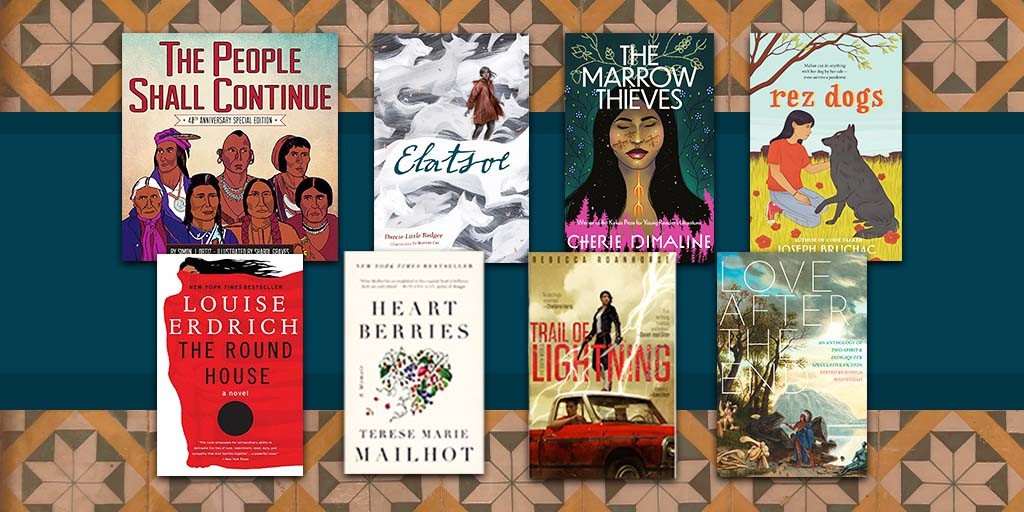 November is Native American Heritage Month! We've compiled a selection of books by Indigenous authors and illustrators to help you learn and celebrate.
For Kids
The People Shall Continue by Simon Ortiz, with illustrations by Sharol Graves
This picture book is a great introduction to Native peoples' histories and traditions of resilience. Walking readers through the tales of multiple nations from Creation to today, Ortiz simply but effectively communicates stories of struggle and survival.
Rez Dogs tells the story of a young Wabanaki girl and her dog quarantining on the reservation with her grandparents during the Covid-19 pandemic. Writing in verse for middle grade readers, Bruchac elegantly blends the grandparents' stories of struggles past, contemporary troubles, and the acts of community care she has experienced with her family and tribe.
Also available on Libby in eBook and eAudiobook formats.
For Teens
The Marrow Thieves by Cherie Dimaline
Set 50 years in the future, this dystopian science fiction novel follows the story of a group of First Nations teens as they evade capture from the Recruiters, who are trying to extract their bone marrow as a means of restoring white people's ability to dream.
Also available on Libby in eBook and eAudiobook formats.
Elatsoe by Darcie Little Badger, with illustrations by Cai Rovina
In this beautiful tapestry of paranormal urban legends and Lipan Apache folktales, Elatsoe, a young, asexual Indigenous woman with supernatural powers, investigates her cousin's murder. Rovina's greyscale illustrations and Little Badger's prose create a story charming and haunting in equal measure.
Also available on Libby in eBook and eAudiobook formats and on Hoopla in eBook format.
For Adults
Love After the End by Joshua Whitehead
This anthology of Two-Spirit and queer Indigenous speculative fiction offers creative visions of the future, replete with AI rats and intergalactic forests, imagining a better future while acknowledging the wrongs of the present and the past.
Also available on Hoopla in eBook format.
The Round House by Louise Erdrich
Joe Coutts, an Ojibwe teenager, reckons with the reality and trauma of being part of a marginalized population in the U.S. after his mother is assaulted in a hate crime, probing the meaning of community and the nature of justice.
Also available on Libby in eBook and eAudiobook formats and on Hoopla in eBook format.
Trail of Lightning by Rebecca Roanhorse
In a post-apocalyptic world, a supernatural monster hunter named Maggie must fight monsters and the witches who create them in order to protect her tribe. Delving deep into Diné legends and culture, Roanhorse creates a fast-paced, action-filled magical adventure.
Also available on Libby in eBook format.
Heart Berries by Terese Mailhot
Handed a notebook at a crucial turning point in her life, Mailhot begins to make sense of her difficult childhood on the Seabird Island Indian Reservation, her mental health, and what it means to love and mother in her own way.
Also available on Libby in eBook format and on Hoopla in eAudiobook format.
There are many more Indigenous authors in our collection, and we would love to help you find more! Check out our latest Overdrive List for a selection of teen titles featuring indigenous authors and characters or visit our My Next Read page for customized book recommendations.
Stay Informed
When you subscribe to the blog, we will send you an e-mail when there are new updates on the site so you wouldn't miss them.
Comments
No comments made yet. Be the first to submit a comment