Planning for the School Year & Beyond: Resources for Teens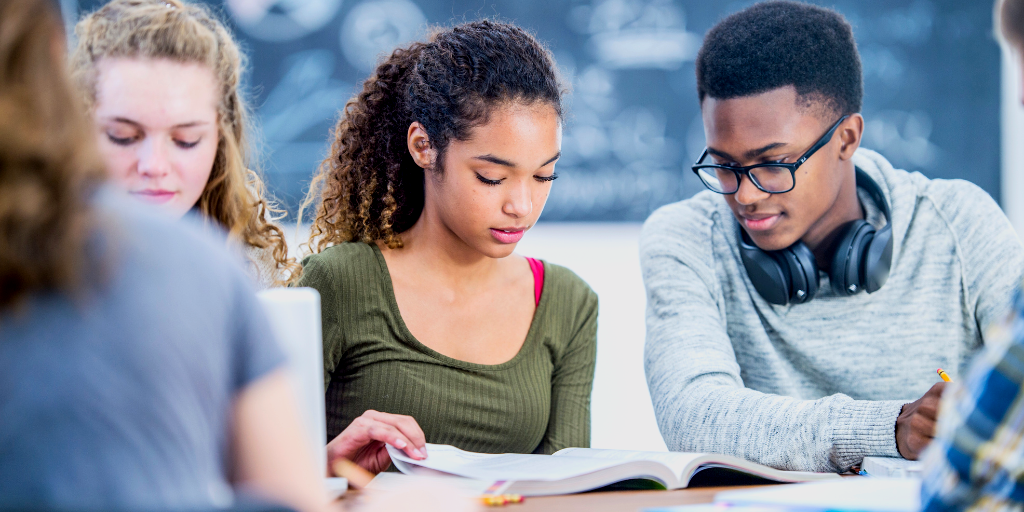 School is back in session, and we just want to remind all the hard-working students out there that the library has your back! Between academic workloads, outside-of-school responsibilities, and planning for the future, we know you juggle a lot. We're here to help, in-person or online, so that you can have a successful year. Read on to learn more about resources available to you at the library.
SCHOOL YEAR RESOURCES
Homework Help:
Find support all-year round through HCPL's Research and Learning databases. Access free tutoring, homework help, practice tests, language lessons, and instructional videos with resources like:
Volunteer Hours:
Need volunteer hours for school? Get involved at your local library! HCPL offers a few options for students to earn hours:
Personal Wellness:
Feeling stressed? Don't forget to take care of yourself this school year. Find support in our collection of mental health and wellness titles, explore our Teen Health & Wellness database, or, if you are experiencing a mental health crisis, reach out to the experts at Henrico Mental Health and Developmental Services.
LOOKING AHEAD: WHAT'S NEXT?
Thinking about the future can feel daunting. Heading to college? Entering the workforce? No matter what your path, the library is here to help support your goals.
College
For those interested in pursuing higher education, the library is hosting several programs this fall. Join us to learn more about financial aid, scholarships, and college essay writing with GRASP, a non-profit college access organization, and the Richmond Young Writers. In addition to these, and resources available in our collection, students can access free prep and practice tests for the PSAT, SAT, ACT, and various AP Exams through our Learning Express Library database.
Tuesday, September 26, 6:30-8PM at Tuckahoe
Wednesday, September 27, 6:30-8PM at Fairfield
Thursday, September 28, 6:30-8PM at Twin Hickory
GRASP (Great Aspirations Scholarship Program), a non-profit college access organization, presents the basics of financial aid grants, loans, and scholarships. Learn how to access funding and make sure you're getting the best award package. Students and families will be given additional resources to support future educational success.
On Track for College: Middle School Edition
Thursday, September 14, 6:30-8PM at Twin Hickory
Middle school-focused presentation from GRASP, a nonprofit college access organization, geared towards students or parents focusing on options for post-secondary education, how students can prepare, and financial preparedness.
College Essay Writing Workshops
Tuesday, October 17, 6-7:30PM at Fairfield
Wednesday, October 25, 4:15-5:45PM at Twin Hickory
Wednesday, November 1, 6-7:30PM at Libbie Mill
Monday, November 6, 6-7:30PM at Tuckahoe
Writing about yourself is hard. And striking the balance of writing about yourself for a college application is extra tough. In this workshop led by Richmond Young Writers, students will read sample college essays and other pieces before starting a draft. Students will leave the course with instructor and peer feedback on that draft.
College Scholarship Service Profile Deep Dive
Wednesday, October 18, 6:30-7:30PM at Twin Hickory
Grasp Speakers Bureau presents: CSS Profile Deep Dive. Each year the College Scholarship Service Profile (CSS) unlocks access to more than $10 billion in non-federal financial aid to thousands of students. Take an in-depth look at the CSS Profile, who requires it, why they need it, and what to expect when creating your profile.
Career Development
For students eager to enter the workforce, the library provides free access to several databases that offer job support. Learn about different career paths, find resume and cover letter assistance, practice for interviews, prepare for certification exams, gain new skills, and build confidence with resources like JobNow, Learning Express Library, and Universal Class.
Stay Informed
When you subscribe to the blog, we will send you an e-mail when there are new updates on the site so you wouldn't miss them.
Comments
No comments made yet. Be the first to submit a comment