Connecting Communities with Quilts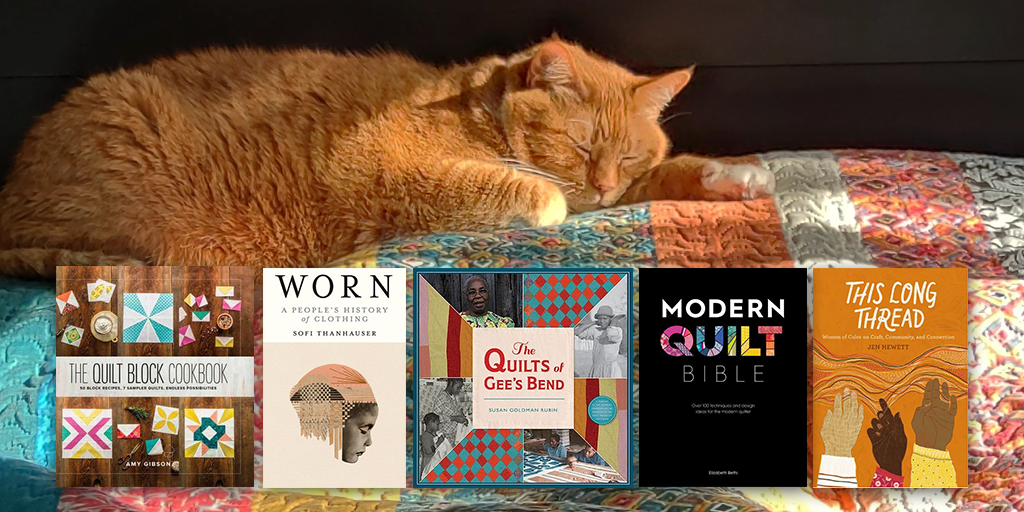 Quilting bees, stitch-ins, and sewing circles have long been community gatherings. In the spirit of our "All Together Now" Summer Reading challenge, join us to explore quilting and other textile arts this summer. Events include collaborative art installations at several locations, a documentary screening, presentations from area quilters, and a lecture on Virginia Quilt Trails. Read on for more information about how you can connect with your community through quilting at the library this summer, and for book recommendations related to quilting and textiles.
Our Connecting Communities with Quilts program will be happening at several libraries!

In this featured Summer Reading event, you are invited to design a paper "quilt" block to add to our collaborative quilt-inspired project. Make a square to take home and another to share in the library display. Information on the history and art of quilt making, instructions, and craft materials will be available to inspire creativity during this drop-in style program. Following the program, materials will be available onsite while supplies last. Express yourself, connect with your community, and together we will watch our quilt grow.
Monday, July 17, 12PM at North Park Library
Tuesday, July 18, 11AM at Fairfield Library
Wednesday, July 19, 11AM at Twin Hickory Library
Thursday, July 20, 11AM at Tuckahoe Library
Thursday, July 27, 4PM at Varina Library
Tuesday, August 1, 2PM at Libbie Mill Library
Craft in America Documentary: Quilts

Wednesday, July 19, 10AM at Twin Hickory Library
American quilters share their work and inspiration in the PBS documentary- Craft in America: Quilts(2019, NR, 56 min.). This film includes the work of textile artists Susan Hudson, Victoria Findlay Wolfe, Michael A. Cummings, and Judith Content, plus interviews with staff from the International Quilt Museum, and special guest star Ken Burns. Immediately following the screening, we will create paper "quilt" squares to add to our "Connecting Communities with Quilts at Twin Hickory" project.
Quilting All Together Now with Kuumba Afrikan American Quilting Guild

Saturday July 22 and 29, 10AM – 2PM at Varina Library
The Kuumba Afrikan American Quilting Guild leads this two-part quilting workshop. Guild members will introduce the history of quilts, the basics of sewing machine use, and guide participants through making a take-home jelly roll fabric project. This program is suitable for beginners. All materials and instruction will be provided. Registered participants should plan to attend both workshops.
Quilt Trails of Virginia

Thursday, July 27, 3PM at Varina Library
Tuesday, August 1, 6PM at Libbie Mill Library
Explore the recent appearance of colorful squares and diamonds on barns and homes across the country and learn about the barn quilt trail movement. Examples from Virginia will be highlighted including the first established quilt trail (Highlands County), the longest trail (Greene County), and several others. Information will be available to help plan your own tour of the quilt trails in our home state.
Story Quilts with Denise Lowe Walters

Saturday, August 5, 2PM at Tuckahoe Library
Story quilt artist, scientist, and Nottoway Indian Tribe of Virginia Council Chair Dr. Denise Walters will present her multimedia story quilts. These works illustrate tribal history and culture and reflect the artist's passion for science and the environment. Walters' work has recently been displayed at the Chrysler Museum of Art, Jamestown Settlement, Peninsula Fine Arts Center, and Gallery 5 in Richmond, VA. Walters' original works will be on view in the library during the program. This program is sponsored by the Friends of the Library.
If you can't make it to one of our programs, you can still learn about the rich history of quilts and the textile arts from some of these fantastic books in our collection.
Quilts are artworks representative of the communities in which they were made. Historically, a quilt would often begin its life as something else, whether that was clothing, bed sheets, or spun fiber from an animal's coat. These books are about textiles, fabric, and how our history is intrinsically linked to their production:
While all quilts bring us warmth – many are also exquisite works of art. Here are some books about specific quilts and quilters who have been recognized for their artistic vision and message to the world:
Now that you're feeling inspired, learn how to quilt or master new techniques with these books:
Stay Informed
When you subscribe to the blog, we will send you an e-mail when there are new updates on the site so you wouldn't miss them.
Comments
No comments made yet. Be the first to submit a comment