Celebrate Women's History Month!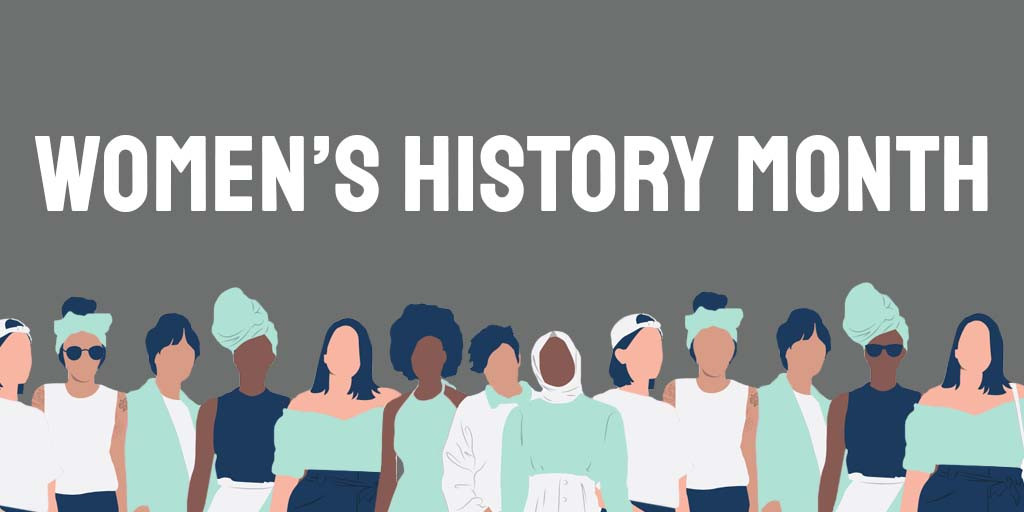 "How important it is to recognize and celebrate our heroes and sheroes!"—Maya Angelou
Women's History Month is here! This March, let's take a cue from the great Maya Angelou and learn about our sheroes, past and present. Explore the library's collection for books and DVDs that highlight the great achievements of women throughout history. Here are just a few!
The Woman Who Would be King: Hatshepsut's Rise to Power in Ancient Egypt by Kara Cooney
One of only three women to rule as Pharaoh in Ancient Egypt, Hatshepsut was originally appointed as regent for her infant nephew, Thutmose III, but Hatshepsut had other plans. Within a few years she ascended the throne. Some of her statues depict her as a man, and some as a woman. Apparently not all of her subjects approved of her reign—many of her statues were defaced after her death. This title is also available on Libby.
For younger readers, check out Hatshepsut: Egypt's First Female Pharoah by Pamela Dell.
Ocean Speaks: How Marie Tharp Revealed the Ocean's Biggest Secret by Jess Keating
How long have we known what lies at the bottom of our oceans? Not long, it turns out! Working at Columbia University, Marie Tharp used data points collected by her peers to draft a map of the ocean floor. She was not allowed on the expeditions herself, since at the time sailors considered a woman on board to be bad luck! In plotting the map she discovered a great valley in the North Atlantic and a rift valley spanning the entire globe. These important discoveries helped prove the theory of continental drift. This title is also available on Libby.
For an adult bio of Tharp, take a look at Soundings by Hali Felt.
In 1920, the 19th Amendment granted women the right to vote. Unfortunately, many local governments in the South did not believe that this right extended to Black women. Forty years later, Fanny Lou Hamer, a Mississippi sharecropper, made multiple attempts to register to vote. When officials tried to bar her from registration, she faced harassment, jail, and violence. Nevertheless, she did not back down. Walk With Me: a Biography of Fannie Lou Hamer by Kate Clifford Larson and Voice of Freedom: The Fannie Lou Hamer Story by Carole Boston Weatherford (also available on Hoopla and Libby) are great introductions to the life of this often unsung shero of Civil Rights history.
Being Heumann: An Unrepentant Memoir of a Disability Rights Activist by Judith Heumann
Paraplegic from an early age, activist Judith Heumann has spent her life fighting for inclusion and opportunity. Her local school district refused to enroll her, deeming her wheelchair a fire hazard. New York City refused to grant her a teaching credential, claiming that she could not evacuate her students in an emergency. She sued for her credential—and won. Her later activism and leadership set the stage for the Americans with Disabilities Act in 1990. This title is also available on Libby.
Many have written about our famous local First Nations heroine, Pocahontas, but what do members from her tribe have to say about her history? The True Story of Pocahontas: The Other Side of History by Dr. Linwood "Little Bear" Custalow and Angela L. "Silver Star" Daniel tells Pocahontas' story from a Native American perspective. The authors draw on Powhatan oral tradition and thus tell a very different story of Pocahontas' life. Custalow and Daniel posit that her motivation was not the romantic love of a man, but love for her father and a desire for safety and peace. This title is also available on Hoopla.
Pocahontas is possibly the most famous, but she is only one of Henrico's powerful and trail-blazing women. Are you interested in learning more about Henrico's female movers and shakers? The Notable Henricoans Database, available through our website, showcases profiles of women who made a difference in Henrico--from Pocahontas to Virginia Randolph.
UPCOMING PROGRAMS
In addition to these titles, check out some of our upcoming programs for Women's History Month!
Leading Women of Richmond Part 1: Pre-Colonial to the Civil War

The Twin Hickory Area Library and the Valentine Museum present a two-part series to celebrate Women's History Month. The series is entitled: Leading Women of Richmond. Part One begins with the region's first inhabitants, women who have played a crucial role in the community's development. Learn how these early women laid the foundation for our city today.
Leading Women of Richmond Part 2: Post Civil War to the Present

Part two of this series continues discussions about leading Richmond women by exploring those whose work in education, literature, suffrage, philanthropy and more pushed boundaries, instigated change and transformed life for us all.
Family Maker Lab: Women in STEM

Stop by the Digital Media Lab anytime during the program to explore a fun activity and learn about some cool technology with your family. This month, we will be tinkering with projects inspired by awesome women in STEM.
Stay Informed
When you subscribe to the blog, we will send you an e-mail when there are new updates on the site so you wouldn't miss them.
Comments
No comments made yet. Be the first to submit a comment