2022 Staff Picks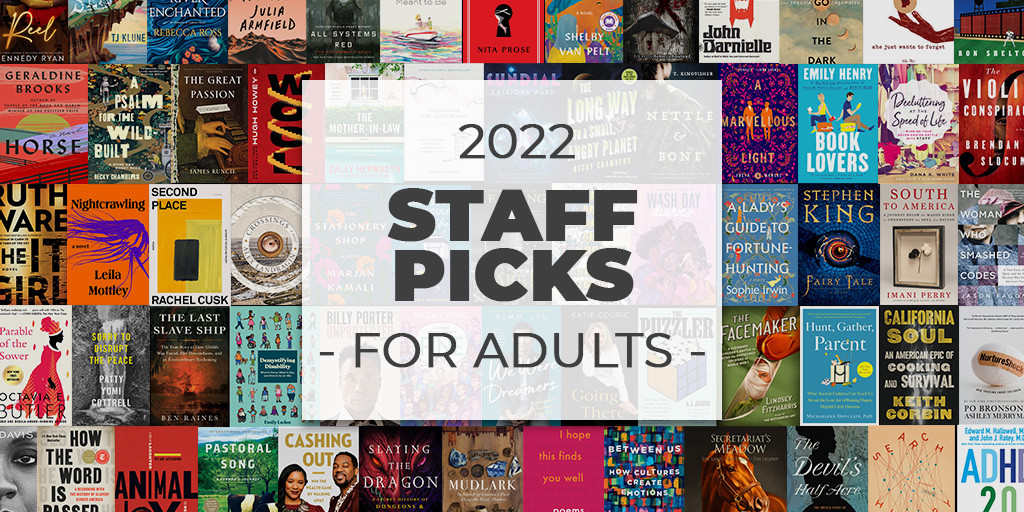 Our Staff Picks lists are here! Whether you're looking for new books to add to your TBR list or great titles to gift this holiday season, below you'll find our favorite books we've read this year. Be sure to also check out our favorite Teen and Children's reads too. We hope you enjoy these lists as much as we enjoy compiling them!
If you're looking for more recommendations, feel free to visit, give us a call, contact us virtually through our Ask a Librarian service (green tab on the right hand side of our website), or try My Next Read to receive a custom list of book recommendations from our expert librarians.
Wishing everyone a wonderful new year of reading!
FICTION
A Lady's Guide to Fortune-Hunting by Sophie Irwin — recommended by Sophia G. at Varina

Left with a gaggle of siblings, oldest sister Kitty Talbot is forced to find a husband with full pockets at the London Season. Enemies-to-lovers, gossip, parties, and scandal fills this regency romance novel, with the reader both chastising Kitty and pushing for her happy ending.
All Systems Red by Martha Wells — recommended by Barbra S. at North Park

A whole lot of fun with surprising depth and character-building for a short novella.
Book Lovers by Emily Henry — recommended by Rachel S. at Fairfield
Crossings by Alex Landragin — recommended by Lisa K. at Glen Allen

A bookbinder comes into possession of a set of manuscripts that appear to trace the lives of immortal souls. This title is a literary take on topics explored in Leviathan's Every Day, The Invisible Life of Addie LaRue, Oona Out of Order, etc.
Devil House by John Darnielle — recommended by Rick S. at Library Administration
Fairy Tale by Stephen King, also available as an audiobook — recommended by Tiffany A. at Libbie Mill

King's strong narrator, Charlie, pulled me into the story and did not let go. I enjoyed both the setup of the relationship of Charlie and Mr. Bowditch and their journey into the new world.
Generation X-ed edited by Rebecca Rowland — recommended by Phil F. at Outreach & Mobile Library Services

An exciting anthology of monster, folk, paranormal, and psychological horror as glimpsed through the lens of the latchkey generation. Twenty-two tales of terror set in the 80s and 90s, each with its own distinct style and flavor, perfect to curl up to on a cold night!
Horse by Geraldine Brooks — recommended by Drew C. at Gayton

This powerful and transporting historical fiction title highlights the world of American horseracing in the 1800s, a lifelong friendship between an African-American stable groom and a champion racehorse, and the weight and consequences of racism both in the past and today.
How High We Go In the Dark by Sequoia Nagamatsu — recommended by Susan L. at Libbie Mill

I really enjoyed this creative novel comprised of interconnecting stories in a post-pandemic world.
The It Girl by Ruth Ware — recommended by Kristyn S. at Libbie Mill
The Long Way to a Small, Angry Planet by Becky Chambers — recommended by Kendall H. at Library Administration

This is the first in a completed series. Chambers' other series has become TikTok famous (Monk & Robot), but this one is the perfect example of "cozy sci-fi." Completely loved this book.
The Maid by Nita Prose — recommended by Courtney M. at North Park
Meant To Be by Emily Giffin — recommended by Bridget O. at Gayton
Nettle & Bone by T. Kingfisher — recommended by Kristina C. at Library Administration
Nightcrawling by Leila Mottley — recommended by Lauren M. at Libbie Mill
Parable of the Sower by Octavia Butler — recommended by Tracey B. at Tuckahoe

This Afrofuturist book, written in 1993, takes place in 2024, showing that our current world and the one imagined by Butler are prophetically similar.
The Phone Booth at The Edge of The World by Laura Imai Messina — recommended by Kelli Y. at Tuckahoe

This is one of my favorite books about the waves of happiness and grief after the tragic loss of loved ones. Highly recommend to anyone and everyone.
Reel by Kennedy Ryan — recommended by Alicia A. at Library Administration
Second Place by Rachel Cusk — recommended by Lindsey H. at Libbie Mill

There was a period of time this year where, quite unintentionally, every book I read was about a woman having an existential crisis near a body of water. Second Placewas my favorite of these for three reasons — the way its tone and plot mirrored its atmosphere, the way its narration felt like a controlled careen into the main character's mind, and because I love when a writer becomes obsessed with another art form (here, painting) and it radically alters their way of seeing.
Sundial by Catriona Ward — recommended by Kelsey C. at Varina
Wool by Hugh Howey — recommended by Kareemah H. at Varina
NONFICTION
ADHD 2.0 by Edward Hallowell and John Ratey — recommended by Kelli Y. at Tuckahoe

The most validating book about ADHD I have ever read. Having ADHD myself, this book made me feel seen and heard, and is a great reference for people trying to understand the disorder more.
Animal Joy: A Book of Laughter and Resuscitation by Nuar Alsadir — recommended by Lindsey H. at Libbie Mill

If the opening pages of this book sound like the setup of a joke —"a psychoanalyst enrolls in a clown school, and…" —those that follow explore a kaleidoscopic range of what laughter can respond to and mean. In search of the honesty at the core of an involuntary impulse, Alsadir treats joy as inextricable from every other animal feeling.
Between Us: How Cultures Create Emotions by Batja Mesquita — recommended by Susan L. at Libbie Mill

What a great insight into why just learning the words of another language is not nearly enough to really understand their meaning in cultural context.
Cashing Out by Julien Saunders — recommended by Nideria B. at Sandston
Finding Me by Viola Davis — recommended by Kelsey C. at Varina
Going There by Katie Couric — recommended by Courtney M. at North Park
How the Word is Passed by Clint Smith — recommended by Lisa K. at Glen Allen

Smith takes us on a roadtrip to historical sites to see how they tell us about the experience of Africans and African Americans. With easy-going prose, he presents tough truths about interesting places.
I Hope This Finds You Well by Kate Baer — recommended by Sophia G. at Varina

In a unique poetry collection, Kate Baer takes Instagram messages, ads, speeches, and more and turns them into reflective poems. With empathy and thoughtfulness, one page has the original text and the next has her reimagined poetic response to bring a different perspective.
The Puzzler: One Man's Quest to Solve the Most Baffling Puzzles Ever, from Crosswords to Jigsaws to the Meaning of Life by A.J. Jacobs — recommended by Drew C. at Libbie Mill

This is an informative, funny, investigative, and light-hearted deep dive into many different puzzle genres (including crosswords, jigsaws, scavenger hunts, mazes, Japanese puzzle boxes, Rubik's cubes, Sudoku, ciphers, and many more) to learn about their histories, fan bases, and most challenging offerings.
Secretariat's Meadow by Kate Chenery Tweedy and Leeanne Meadows Ladin — recommended by Tiffany A. at Libbie Mill

The land, the family, the legend. I enjoyed reading about the family and horse that hold records that still stand today.
South to America by Imani Perry — recommended by Jamie C. at Library Administration
Unprotected by Billy Porter — recommended by Antonia P. at Fairfield
Stay Informed
When you subscribe to the blog, we will send you an e-mail when there are new updates on the site so you wouldn't miss them.
Comments
No comments made yet. Be the first to submit a comment