Famous Foods and How to Cook Them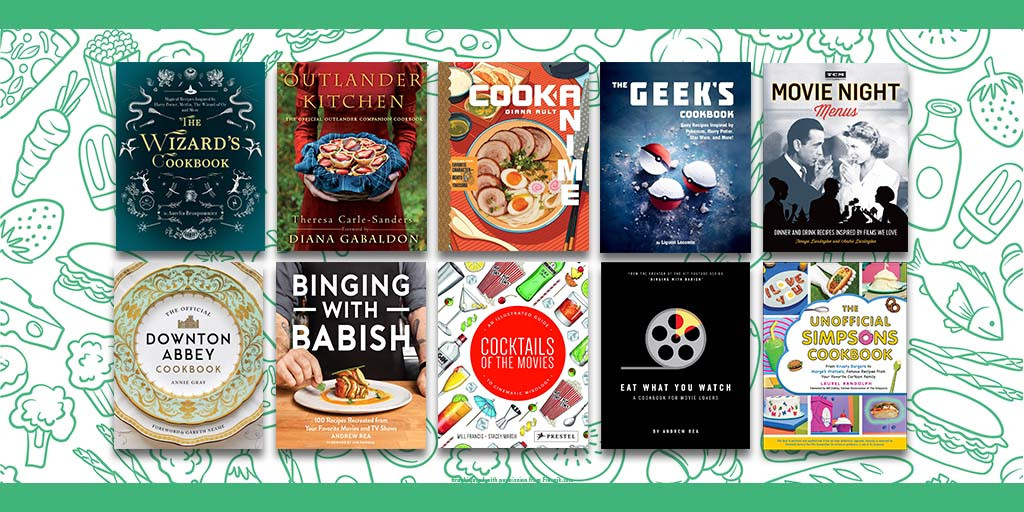 Ever wondered what a Krusty Burger tastes like? What about Buddy the Elf's Breakfast Pasta?
Luckily for our taste buds, creative chefs have compiled, created, and in some cases re-created, recipe collections of famous foods from cinema and television. From The Simpsons' fast food to Downton Abbey feasts, from Hogwarts feast hall to The Sopranos' New Jersey family table, our library cookbook collection has titles for any fan's delectation.
Here are some of our picks for when you're craving famous foods:
Binging with Babish: 100 Recipes Recreated from Your Favorite Movies and TV Shows by Andrew Rea
Showcasing the hit YouTube cooking show Binging with Babish, Andrew Rea showcases foods from popular TV shows and movies, like the famous babka from Seinfeld, or Bubba's shrimp from Forrest Gump and the menu of Bubba Gump's Shrimp Factory.
Eat What You Watch: A Cookbook for Movie Lovers by Andrew Rea
Andrew Rea is back with 40 more recipes inspired by films classic and new, live action and animated fare alike. Who isn't dying to know how to recreate Breakfast Dessert Pasta as concocted by Buddy the elf from the film Elf, or Chicken with Mole and Saffron Rice inspired by Breakfast at Tiffany's? You'll find recipes inspired by films like Chocolat, Ratatouille, The Grand Budapest Hotel, Pulp Fiction, Roman Holiday, and more.
Movie Night Menus: Dinner and Drink Recipes Inspired by Films We Love by Tenaya Darlington
More than just a collection of recipes, this book offers suggested food, drink, and film groupings to celebrate 30 films spanning the 1930s through the 80s. Recipes for drinks and dishes inspired by cinematic works, tips on home and table styling and fashion, and even fun production anecdotes to spot in the films are found within these delightful pages.
The Wizard's Cookbook : Magical Recipes Inspired by Harry Potter, Merlin, the Wizard of Oz, and More by Aurélia Beaupommier
Whip up foods for any sort of magical nosh—from light snacks to extravagant feasts—with recipes inspired by Aladdin, Harry Potter, Goosebumps, The Legend of Zelda, Nanny McPhee, The World of Narnia, and more!
The Geek's Cookbook : Easy Recipes Inspired by Pokémon, Harry Potter, Star Wars, and More! by Liguori Lecomte
Sustain your geek energy with snacks, treats and main dishes inspired by a galaxy's worth of Sci-Fi, anime, cartoon and fantasy. From The Walking Dead to Minecraft, from Pokemon to Batman, there is a good chance something in this cookbook will satisfy.
Cocktails of the Movies : An Illustrated Guide to Cinematic Mixology by Will Francis
With original illustrations throughout, this book offers trivia about each drink and the film that inspired it. Set your inner mixologist free with 64 cocktail recipes sparked by films like Groundhog Day, A Clockwork Orange, Deathproof, and more. This collection should certainly entertain!
The Official Downton Abbey Cookbook by Annie Gray
Food historian Annie Gray brings us 100 recipes ranging from breakfast to high tea. Sources include traditional and period accurate recipes as well as recreations of foods seen on screen during the show. The recipes reflect the enormous changes and developments of food and cookery at the early part of the 20th century. You will find everyday British classics like Cornish Pasties, Toad-in-the-Hole, and Kidney Pie as well as more rarified dishes like Salmon Mousse and Charlotte Russe.
Cook Anime: Eat Like Your Favorite Character--from Bento to Yakisoba by Diana Ault
Ever wish you could just reach into the TV and share what your favorite anime character is munching? Okay, this is not exactly as fast, but should be just as much tasty fun. Learn to make many of the scrumptious looking foods portrayed in Japanese animation classics like Naruto, Princess Mononoke, and Fruits Basket!
The Unofficial Simpsons Cookbook : From Krusty Burgers to Marge's Pretzels, Famous Recipes from Your Favorite Cartoon Family by Laurel Randolph
Fresh from TV's Springfield come breakfast, lunch, dinner, dessert, and drink recipes, including Krusty Burgers, Million Dollar Birthday Fries, Forbidden Doughnuts, Lisa's Gazpacho, and more.
Outlander Kitchen : The Official Outlander Companion Cookbook and Outlander Kitchen: To the New World and Back Again: The Second Official Outlander Companion Cookbook by Theresa Carle-Sanders
These two books feature the work of Chef Theresa Carle-Sanders, founder of OutlanderKitchen.com and recipes gathered and developed from the books and the television series. From Mrs. FitzGibbons' Overnight Parritch, to Diana Gabaldon's family recipe for Cheese Enchiladas, you'll find plenty of inspiration for your own Outland-ish feasts.
"Hungry" for more? Try our My Next Read service to get a customized list of book recommendations!
Stay Informed
When you subscribe to the blog, we will send you an e-mail when there are new updates on the site so you wouldn't miss them.
Comments
No comments made yet. Be the first to submit a comment