DIY in the Digital Media Lab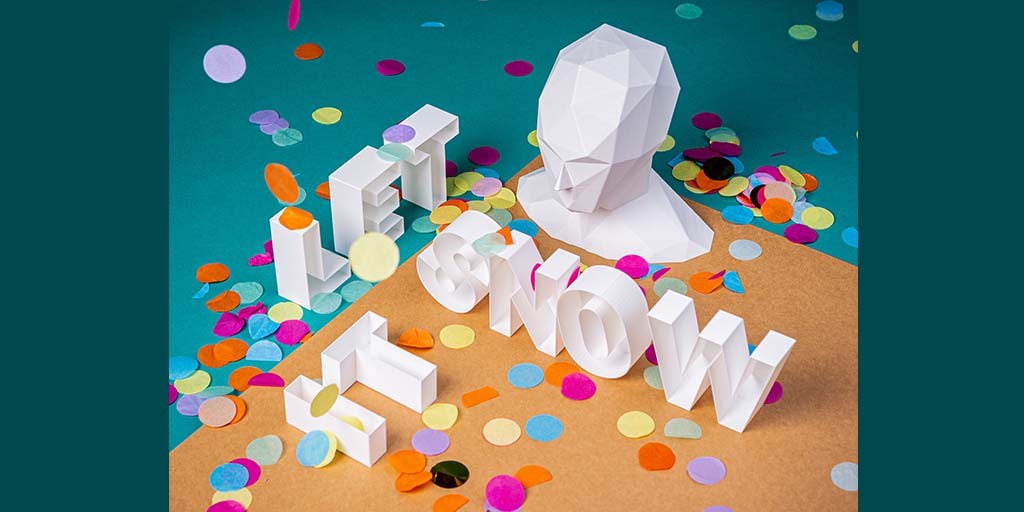 Do-It-Yourself (DIY) gifting is a creative alternative for those wishing to avoid the hassle of crowds and online shopping this holiday season. Should you opt for a more hand-made holiday, be sure to check out our Digital Media Lab resources for project ideas and support!
Green Screen
Often used on movie sets, green screens allow us to easily swap different background images and footage into a scene. Whether you want to be on a tropical island or in a winter wonderland, use our camera, tripod, green screen and studio lights to create one-of-a-kind greeting cards for friends and family.
Stop by our Family Maker Lab: Green Screen Winter Photos program on Saturday, December 11th at 2:30-3:30PM at Fairfield to take photos in front of our green screen!
Digitize Photos and VHS Tapes
The preservation of family memories is the gift that will keep on giving for generations to come. Use the Lab's scanner and VHS transfer station to give old memories new life. Scan old film and slides to create a digital photo album that loved ones will cherish, or digitize a VHS home movie and host a screening to relive a special moment.
To learn about how to start digitizing on your own, check out one of our upcoming Digitize Your Photos and Home Movies programs:
Monday, December 6th at 2-4PM at Twin Hickory
Monday, December 13th at 2-4PM at Tuckahoe
Podcasting/Audio Recording
Whether you're recording a podcast, a song or a special message for a loved one, our Digital Media Labs offer audio recording equipment and software to help make your project a reality. In addition to headphones, microphones, and audio editing software, our Fairfield location also offers a one-button studio, where recording is as simple as pressing a button!
Learn more about podcasting and basic audio editing techniques in our Podcasting Basics Workshop for Adults on Thursday, December 16th at 10:30-12:30AM at Twin Hickory.
3D Printing
Design and print all of your gifts this year using one of the library's 3D printers! Learn basic 3D design skills in a free, web-based program like Tinkercad or take your skills to the next level using the free open source software, Blender. Not interested in the design process? Try browsing hundreds of premade ready-to-download designs on a site like Thingiverse. Use our website's 3D submission form to send us your file and we'll contact you when your print is ready for pickup! To learn more about 3D printing and design, check out one of our upcoming 3D Printing & Design for Adults workshops:
Monday, December 6th at 2:30-4:30PM at Libbie Mill
Monday, December 6th at 6-8PM at Tuckahoe
Adobe Creative Cloud
Explore the endless creative possibilities of the Adobe Creative Cloud, a robust suite of professional level software available on Lab computers. Adobe offers tools for photo editing, graphic design, digital illustration, video editing, audio editing and much more. Learn basic layout and logo design skills in our upcoming Adobe InDesign and Adobe Illustrator workshops:
Adobe InDesign Basics for High School Students & Adults: Monday, December 13th at 6:30-8:30PM at Libbie Mill
Adobe Illustrator Basics for Adults & High School Students: Tuesday, December 14th at 6-8PM at Varina
Want to learn more? Take a free online course with Universal Class to gain more in-depth knowledge about Adobe programs.
Locations & Hours
Digital Media Labs are available at our Fairfield, Libbie Mill, Tuckahoe, Twin Hickory and Varina libraries. Each location offers Open Lab Hours, when patrons can drop in to work on projects that require use of the photo, film and slide scanner, the VHS conversion station and/or Adobe Creative Cloud software. Each location also offers time when the lab can be reserved. This is ideal for those who need to work on video, photo or audio recording projects and/or require use of the green screen and lighting equipment. Hours vary between locations and can be viewed on our Online Calendar. Questions? Please contact your preferred Digital Media Lab location for more info!
Stay Informed
When you subscribe to the blog, we will send you an e-mail when there are new updates on the site so you wouldn't miss them.
Comments
No comments made yet. Be the first to submit a comment