October Online Programs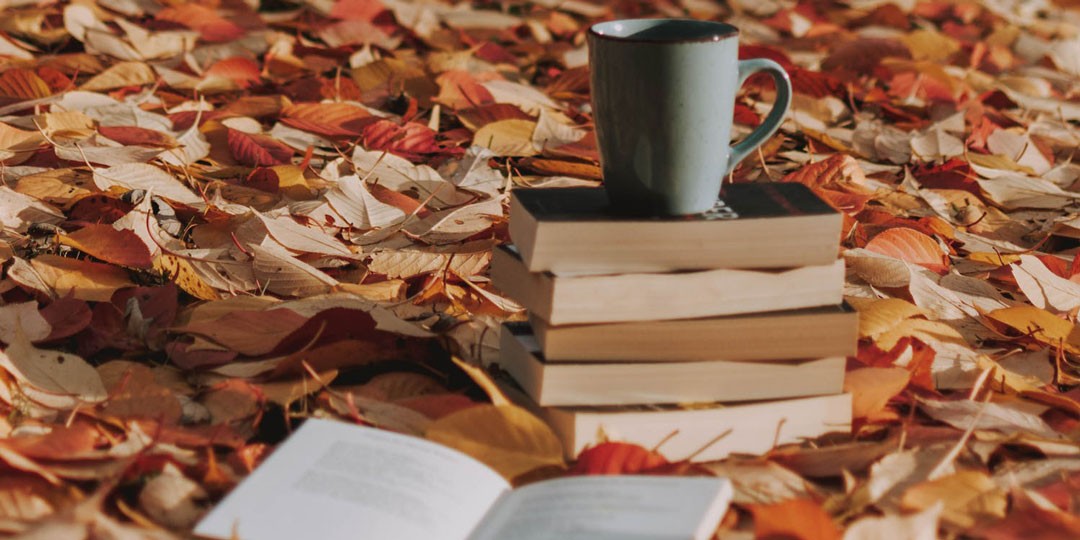 Our virtual event lineup for October is full of fun programs for everyone, perfect for the cozy afternoon or evening in. Take a break from raking leaves to discuss what you're reading, sing and dance along to storytime, or learn something new with us.
These are a few of our upcoming programs. Visit our Events Page for the full list of upcoming events or download our printable guide.
For Kids
Join us for Virtual Storytime on Facebook Live every Monday, Wednesday, Thursday, and Saturday at 10:30 am and Tuesday at 6:30 pm. Read, sing, and dance along with your favorite children's librarians!
Science Kids: Leaves and STEM
Saturday, October 17, 2:00 pm
Leaves are falling, so let's pick them up and do some learning! Join us online for some fun virtual leaf activities and experiments to learn all about our favorite autumn decoration. Bring some leaves, paper and crayons/pencil to take part in the activities.
Check out Science Kids: Bird Watching on Wednesday, October 21 at 4:30 pm and Science Kids: Spooky Experiments on Wednesday, October 28 at 5:00 pm for more fun STEM activities.
Halloween Spectacular Drawing Party!
Tuesday, October 27, 3:00 pm
Bring your imagination, along with paper, pencils, and markers, to draw creepy characters of your choosing or follow along with a few new techniques that we will demonstrate. Feel free to share your ghoulish creations at the end of the session!
For Teens
Teen RPG: D&D One-Shot Adventure
Saturday, October 3, 2:00 pm
Dive into a single, one-shot adventure to practice your D&D skills. Bring your own character or play with one of our pre-made characters. All experience levels welcome. Registration is required - when you register you will receive a link to the event which will take place on Webex.
Anime Club
Wednesday, October 7, 7:00 pm
Monday, October 12, 6:00 pm
Saturday, October 24, 2:00 pm
Teens are invited to meet up online for a spirited discussion of all things anime and manga. Follow us on Instagram @hcpl_teenscene to find out what we will be discussing each week.
Hocus Pocus Trivia Night
Thursday, October 22, 6:00 pm
"Amuck! Amuck! Amuck!" If you know the movie we're quoting, this is your chance to compete in our virtual Hocus Pocus trivia night. Come dressed up and show off all your knowledge of the Sanderson sisters.
For Adults
Building a Better Budget
Tuesday, October 20, 2:00 pm
Get practical advice for creating and sticking to a budget with tools to track spending and establish savings goals. Presented by Virginia Credit Union.
USCIS Lunch & Learn
Let's Talk About Scams and Fraud on Wednesday, October 14, 12:00 pm
Learn about protecting yourself against scams and fraud during the immigration or naturalization processes.
What's New at USCIS & SSA on Wednesday, October 28, 12:00 pm
Presenters from the United States Citizenship and Immigration Services, as well as the Social Security Administration, will host a public information session. They will share what's new in USCIS and SSA and be available to answer your questions.
Bilingual Practices In Early Childhood Education
Saturday, October 24, 2:00 pm
Virtual WebEx workshop for child care providers. Children's early exposure to a second language not only increases the likelihood that they will become fluent in that language, but also promotes cognitive flexibility and develops the multicultural skills needed to thrive in a diverse society. This workshop will offer ideas on how to incorporate Spanish language books, songs, rhymes, and activities into your early childhood curriculum. Child care providers earn 1 hour of CE credit. Registration is required - when you register you will receive a link to the Webex event listing.
And for the whole family...
Family Bingo
Tuesday, October 27, 7:00 pm
Foster literacy skills the fun way by playing Bingo as a family! Registration is required in order to receive a Bingo card.
Book Discussions
Our book discussion groups are talking about fantastic titles all month long. Some of our favorites are Less by Andrew Greer, The Night Tiger by Yangsze Choo, and A Place for Us by Fatima Farheen Mirza. Visit our book discussions page for the full schedule. You can pop into your regular group, or join a new one! For younger readers, K-2 Bookworms is back on October 8 at 3:30 and Teen Title Talk is continuing each Tuesday at 7:30.
Unless otherwise noted, programs will be held via Webex. Click through to the events page for meeting links and information on how to join.
Stay Informed
When you subscribe to the blog, we will send you an e-mail when there are new updates on the site so you wouldn't miss them.
Comments
No comments made yet. Be the first to submit a comment