Introducing Storyline!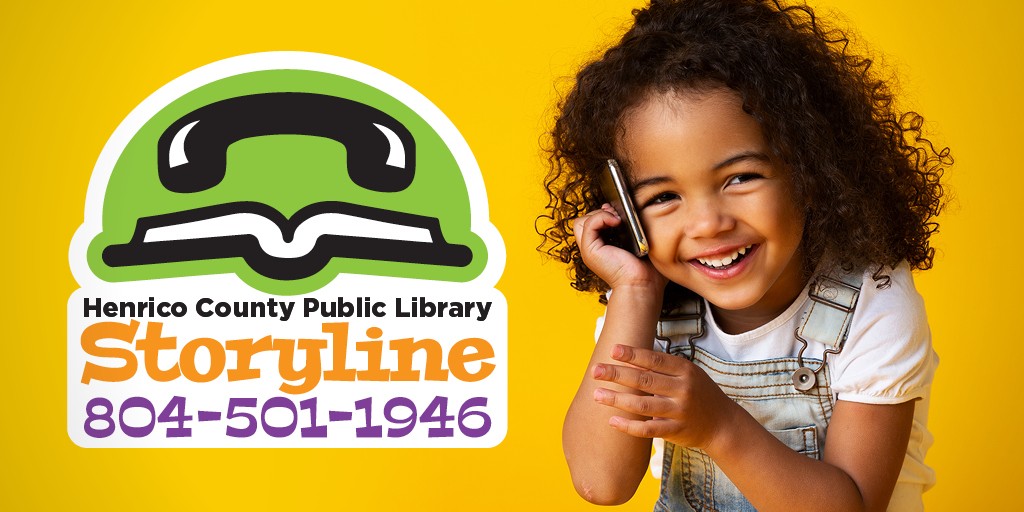 We are debuting a new, on-demand storytime service called Storyline this month. Storyline offers recorded stories over the phone, and is geared toward preschool and early elementary children and their families. For people looking for an opportunity to share stories offline, the library will offer newly recorded stories each week.
It's easy to connect with Storyline. Just call (804) 501-1946 from any telephone (long-distance rates may apply). The stories are usually under 5 minutes or less, and a new story will debut every Wednesday morning at 10 am. During the month of October, we are featuring a bonus spooky story for extra-brave kids! Storyline provides a shared educational experience and opportunity for families to connect anywhere, from the campfire to the couch.
Listening to a story is not only fun, but it also helps develop early literacy skills like visualizing action with the mind's eye. Just like learning to read and sound out words, children of all ages need to hear lots of stories in order to strengthen what experts call their visual imagery, which in turn helps strengthen reading comprehension.
We encourage you to check out Storyline to hear an incredible story!
Listening isn't just for little ones. For older children who might want even longer stories, our children's librarians have pulled together a list of their favorite chapter book read-alouds. Many are available in audiobook format, as well.
Mrs. Frisby and the Rats of NIMH by Robert C. O'Brien – When her young child Timothy becomes deathly ill, the widowed mouse Mrs. Frisby sets off on an adventure involving an ancient owl, a devious cat, and the mysterious rats of NIMH. This is a timeless classic that is sure to please everyone. Also available on Hoopla as an audiobook.
The Wild Robot by Peter Brown – Following a storm at sea, robot ROZZUM unit 7134 (Roz for short) washes up on the rocky coast of a wooded island. After a group of otters accidentally power her up, she begins to become aware of her surroundings and ultimately learns how to live as part of the wildlife.
Harbor Me by Jacqueline Woodson – A group of sixth grade students share a class where their only direction is to talk to each other, with no teachers around. As they slowly open up, they learn a great deal about each other and about themselves.
8 Class Pets + 1 Squirrel Divided by 1 Dog = Chaos by Vivian Vande Velde – This hilarious book follows the hijinks that happen when a dog chases a squirrel into a school building. Each chapter tells the action from the perspective of one of the school's class pets.
Word of Mouse by James Patterson and Chris Grabenstein – A lab mouse with blue fur and the ability to read and write escapes into the outside world! Follow his adventures as he searches for his home.
Fortunately, the Milk by Neil Gaiman – A father runs down to the corner store to buy milk for his kids' breakfast only to have an incredible set of adventures! Also available on Hoopla as an audiobook.
"Fudge" series by Judy Blume – Starting with Tales of a Fourth Grade Nothing and moving on to Superfudge, Fudge-a-Mania, and Double Fudge, the stories of Farley Drexel "Fudge" Hatcher and his family will have kids rolling on the floor in laughter.
The Story of Diva and Flea by Mo Willems – Diva, a small dog, forms a friendship with a stray cat named Flea. Together, they learn about each other's worlds and explore the beauty of Paris, France.
All children benefit from hearing stories read out loud! While visiting the library may not be possible for some families at the moment, we hope that Storyline will help you enjoy a story from home.
Stay Informed
When you subscribe to the blog, we will send you an e-mail when there are new updates on the site so you wouldn't miss them.
Comments
No comments made yet. Be the first to submit a comment