Library Tour Series #5: Libbie Mill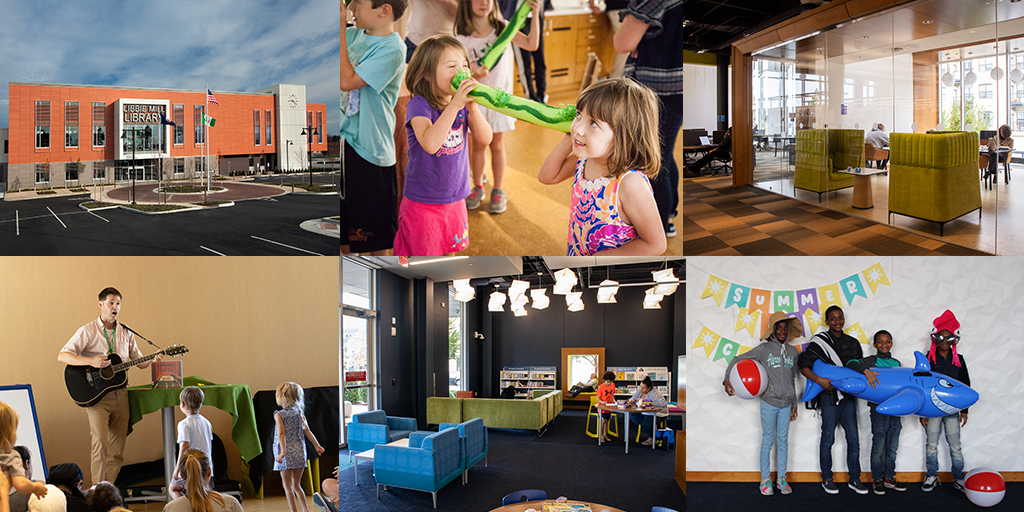 This month, Libbie Mill Library will celebrate its 8th year! Funded by a bond referendum approved by Henrico voters, Libbie Mill opened its doors in October of 2015 as a replacement for Dumbarton Library, which now houses Henrico's Department of Recreation and Parks. The three-story LEED certified building, whose third floor is home to the non-profit Junior Achievement, is the centerpiece of Henrico's Libbie Mill Midtown Development, a mixed-use community with housing, trails, retail, and restaurants. Its close proximity to the city line has helped it become one of the system's busiest branches, with over 300,000 visitors last year alone! Read on to learn more about this bright and bustling library.
Walk into Libbie Mill on a typical day and you might find patrons relaxing in the lobby with a newspaper or magazine; students, remote workers, and groups taking advantage of the library's various meeting and study spaces; the sound of music and laughter coming from the Children's area during Storytime; teens hanging out and video gaming; a podcast recording happening in the Digital Media Lab; computers being used for email, research, resume writing, and more; and of course, patrons browsing the stacks and cozying up with a good book. Needless to say, it's a buzzing branch!
NEXT TIME YOU'RE AT LIBBIE MILL, WE RECOMMEND:
Grabbing a book and crawling into one of the cozy window reading nooks in the Children's area.
Visiting the Children's and Teen desks to ask about the latest library scavenger hunts.
Checking out the designated Teen space equipped with video gaming (for teens only!), study rooms, and the coolest chairs in the building (ask a librarian to demonstrate the fold-out chairs!)
Browsing one of the library's many book displays or engaging with an interactive display.
Visiting the Quiet Room with a new book or an old favorite.
Exploring the library's different work spaces. Our favorite? The tables with the pond view in the Adult section.
Popping by the Digital Media Lab and picking up the latest brochure of upcoming Computer and Digital Media classes.
Heading over to the Teen room to check out the library's 3D printer. Interested in printing something yourself? Submit a request online! Chat with a Teen staff member to learn more.
Learning about local history and culture by reading stories displayed on the lobby's Heritage Wall.
Heading outside for a study break to sit on the swings, snack at a picnic table, take a walk around the pond, or explore the Jordan's Branch Trail, a two-mile loop around the development.
Check out our online calendar to view everything that's happening at Libbie Mill!
Of course, Libbie Mill wouldn't be what it is today without its diverse community of patrons and incredible staff. Here are some of their thoughts about what makes Libbie Mill special.
WHAT PATRONS ARE SAYING:
Why do you love about the library?
"There are SO many horror novels that I can't get at the school library."
"It's a very beautiful building with a multitude of study/work spaces. It makes you want to get out and away from home and keeps you motivated!"
"Everyone is always so nice. I also get so much work done. And of course, the BOOKS."
"I love that the library is here for you no matter who you are, and it values education and growth!"
"It is a place of wonder and learning, peace and excitement, assistance and independence. A place where I can be myself."
"It's a beautiful place and serves everyone. You don't need money to enjoy the services it has to offer, just a nice, peaceful place for the community to enjoy."
"It's a quiet place to collect my thoughts and research things."
What's your favorite thing to do at the library?
Study with my Grandma!
Spend Saturday morning with my daughter.
Spend time with my family.
The stairs! (Nico, Age 3) :)
WHAT STAFF ARE SAYING:
What do you love most about working at Libbie Mill?

"I love the breadth of patrons' information needs here at Libbie Mill. I feel like I get to use a lot of parts of my skills and interests, I get to learn new things every day, and it's really rewarding to connect people with something they're looking for. In a standard day I get to talk books, it's true, but also help people conduct and evaluate research, access digital tools, connect with community services, and enrich their lives via library programs and other creative outlets." – Lindsey H.
"I especially like the people I work with! They are kind, intelligent and hilarious! It's a joy to spend time with them. Also, of course, helping patrons and their children find books is fun and rewarding, truly a win/win experience." – Barbara J.
What makes Libbie Mill unique?

"We see a lot of people each day and each day is a new set of challenges. It's never boring!" – Mike B.
"I think we have a particularly active and vibrant community across all ages of library user here, and it's really wonderful to see connections emerge between patrons who might otherwise never interact except for their shared use of the space or at library programs." – Lindsey H.
Do you have a favorite memory from your time at Libbie Mill?

"Eclipse day … we had a lot of people here and it was wild! [I also enjoy] seeing people visit for the first time and how much they enjoy the building and what we can offer them." – Mike B.
Is there anything else you'd like to share about your experience working at Libbie Mill?

"I find the library is a safe oasis amidst a very complex and troubled world these days. The books, information and knowledge that surround me daily help to calm my spirit." – Barbara J.
Stay Informed
When you subscribe to the blog, we will send you an e-mail when there are new updates on the site so you wouldn't miss them.
Comments
No comments made yet. Be the first to submit a comment