Celebrate Pride Month!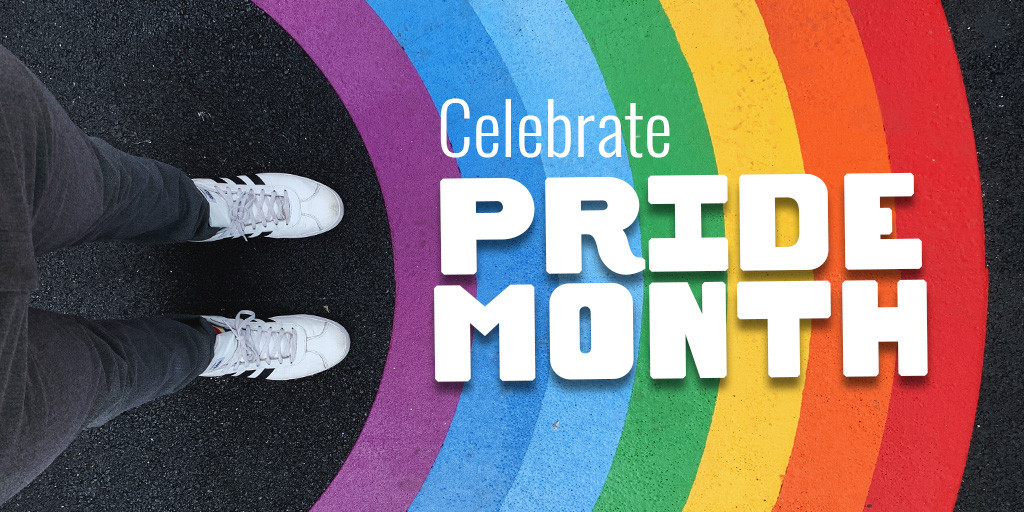 June is LGBTQIA+ Pride Month! What originally began as a day to commemorate the 1969 Stonewall Uprising (Gay Pride Day) has since evolved into an official month-long celebration that recognizes the impact lesbian, gay, bisexual, transgender, queer (questioning), intersex and asexual identifying people have had on history (Library of Congress). We are marking the occasion with a list of titles that celebrate authors and characters belonging to the LGBTQIA+ community. Read on for recommended books for children, tweens, teens and adults!
YOUNG CHILDREN
Pride Colors by Robin Stevenson
Full of rhymes and beautiful colors, this board book is for the youngest readers in our audience. The story encourages kids to be who they are and reminds them that they are loved.
They, She, He, Me: Free to Be by Maya Gonzalez
This easy children's book features a beautifully illustrated and diverse set of characters talking about their pronouns, including neopronouns. A great pronoun introduction read-along for a parent and child.
I am Jazz by Jazz Jennings and Jessica Herthel
An autobiographical children's book, I Am Jazz tells the story of a young transgender girl and her ordinary life. This book shows firsthand a child living her authentic and happy life with supportive family and friends. Available on Libby in eBook format.
Bathe the Cat by Alice B. McGinty
Chaos ensues as a family attempts to bathe their cat and complete their chores before Grandma's big visit. This silly, rhyming portrayal of a diverse family will have readers laughing from start to finish! Available in eBook format on Hoopla.
ELEMENTARY
People of Pride: 25 Great LGBTQ Americans by Chase Clemesha
This nonfiction children's book features 25 two-page biographies about influential Americans from the LGBTQ community. Showcasing the stories of many well-known people, as well as a few who are lesser-known, this is a great introduction to learning about prominent LGBTQIA+ Americans. Available in eBook format on Hoopla.
When her school is putting on a play, Melissa is devastated to find out she can't play her favorite character because the teacher sees her as a boy. Melissa is a story about support, friendship, and a young girl finding the courage to be herself. Available on Hoopla in audiobook format, and on Libby in eBook and audiobook formats. A prior edition of the print book is also available in our libraries.
Too Bright To See by Kyle Lukoff
Living in a haunted house, Bug spends the summer before middle school trying to figure out who the ghost is and what they're trying to communicate. This leads Bug on a journey of self-discovery and toward coming out as transgender. Available on Libby in audiobook and eBook formats.
TWEEN
A thirteen-year-old deals with typical coming-of-age issues all while grappling with the fact that he is merged with a fourth dimensional being. This book has a diverse set of characters and a compelling sci-fi plot. Available on Libby in audiobook and eBook formats.
The Pants Project by Cat Clarke
When Liv's new school requires skirts as part of the school uniform, they start a campaign to allow everyone to wear pants to school. This story about a trans child's activism brings up questions about gender norms while featuring an inclusive cast of characters. Available in eBook format on Libby and Hoopla.
Lumberjanes by Shannon Watters, Grace Ellis, Gus Allen and ND Stevenson
A very popular graphic novel series, this story of girls at a scout camp was an ongoing series lasting 75 issues- so there's a lot to read! While it has several LGBTQIA+ characters, this is typically not the main focus of their fantastical adventures. Available in eBook format on Libby and Hoopla.
Martin McLean, Middle School Queen by Alyssa Zaczek
Timid seventh-grade mathlete Martin McLean finds his true voice through his confident drag queen alter ego, Lottie. Now he just needs to figure out how to introduce Lottie to his friends, family and eighth grade crush, Chris. This feel-good coming-of-age tale will inspire young readers to be confident in their own skin. Available on Hoopla in audiobook format.
TEEN
Beyond the Gender Binary by Alok Vaid-Menon
This short non-fiction work is a great introduction to the multidimensional nature of gender identity and expression. Beautifully written, it showcases creativity and encourages self-reflection and self-expression. Available on Libby in audiobook and eBook formats.
Juliet Takes a Breath by Gabby Rivera
Juliet sets off on her first year of adult life, learning about herself and finding community in the process. Racially diverse and full of LGBTQIA+ characters, this book shows both the excitement and the challenges that come with becoming an adult. The book and graphic novel adaptation are available in eBook format on Libby and Hoopla.
Darius the Great is Not Okay by Adib Khorram
A Persian-American teen travels to Iran to visit family and makes a new friend who may become something more. This book takes a deep dive into topics of identity, mental health, family, and friendship. Available on Libby in audiobook and eBook formats.
Hani and Ishu's Guide to Fake Dating by Adiba Jaigirdar
Two seemingly opposite Bengali girls—popular Hani, and overachieving Ishu—make a mutual agreement to fake date each other. Hani seeks validation from her friends who don't believe she's bisexual, and Ishu hopes to become more popular. Their simple agreement turns complicated, however, when they begin to develop real feelings for one another. Available on Libby in audiobook and eBook formats.
The Lesbiana's Guide to Catholic School by Sonora Reyes
Mexican-American Yami is the new girl in her predominantly white Catholic school. She's also a lesbian, a secret that she vows to keep in order to avoid drawing any more attention to herself. But secret-keeping proves difficult when she starts falling for Bo, the openly queer girl at their school. Humorous yet raw, this story explores themes of intolerance, mental health, friendship, and acceptance. Available on Libby in audiobook and eBook formats.
ADULTS
An Unkindness of Ghosts by Rivers Solomon
A dystopian sci-fi novel set in a society reminiscent of the antebellum South, this book explores themes of slavery, structural racism, and oppression. The cast is full of LGBTQIA+ and neurodiverse characters. Available on Hoopla and Libby in eBook and audiobook formats.
Another Appalachia by Neema Avashia
This memoir of a queer Indian woman growing up in Appalachia reflects on lessons learned about gender, sexuality, race, class, and identity as a whole. Throughout the book, Avashia explores what it means to call a place home.
Everyone on the Moon is Essential Personnel by Julian K. Jarboe
This collection of cyberpunk, body-horror, and fairytale short stories features mostly queer characters and explores what it's like to live a life during an apocalypse. This is also July's LGBTQIA+ Book Club book. If you would like to join the discussion, contact Libbie Mill Library for a book club copy.
Love and Other Disasters by Anita Kelly
The drama on a reality cooking competition heats up when two Chef's Special contestants, Dahlia and London, start falling for each other. Are they a recipe for happily ever after? This delicious, fun-filled story is ripe for romantic comedy fans!
Gay sitcom star, Patrick, lands his most challenging role yet when a family tragedy leaves him as the primary caretaker for his niece and nephew for the summer. "Guncle (gay uncle) Rules" fall by the wayside as Patrick learns to navigate the ins and outs of his new responsibility with humor and patience. Available on Libby in eBook and audiobook formats.
There are many more LGBTQIA+ books and authors in our collection, and we would love to help you find more! Check out our My Next Reads feature for customized book recommendations or browse our curated lists on Overdrive for Kids, Teens and Adults.
Stay Informed
When you subscribe to the blog, we will send you an e-mail when there are new updates on the site so you wouldn't miss them.
Comments
No comments made yet. Be the first to submit a comment