Fun & Free Things to Do This Summer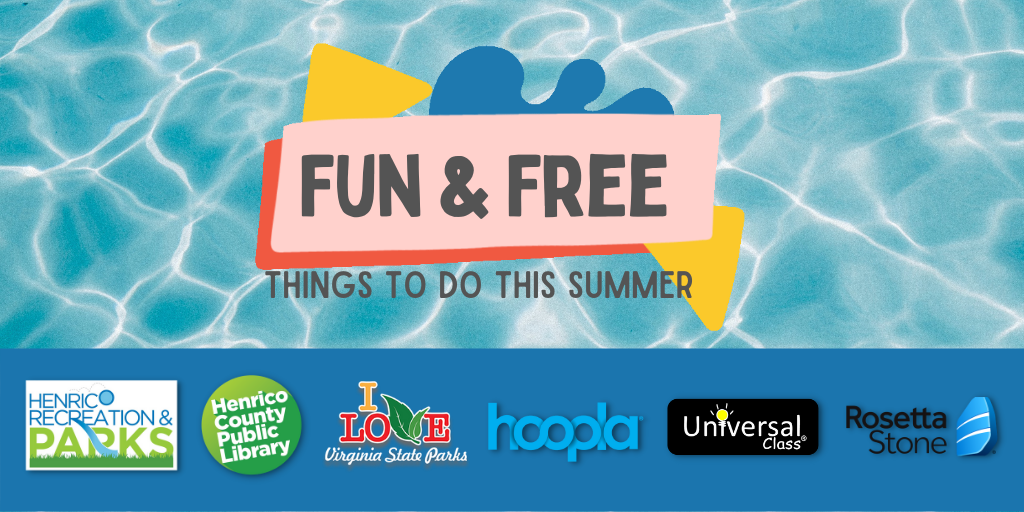 Summer is right around the corner and we're sharing some local and library resources to help you stay busy all summer long. Read on for our top ten list of fun and free things to do this summer!
10. Explore Henrico Parks
Visit our friends at Recreation and Parks. There are 20+ parks all throughout the county that offer hiking and exercise trails, play equipment, picnic areas, water access, fishing, sporting grounds and even spray parks. Bonus: they host "Movie in the Park" nights every two weeks from April to October! View their Special Events page for more information.
9. Visit a Virginia State Park
Check out a Nature Backpack from the library for free parking and entrance into any Virginia state park. The kit is filled with activities and resources to help you make the most of your next adventure!
8. Binge a New Show on Hoopla
For days when it's just too hot to be outside, try Hoopla Bingepass. Gain unlimited access to award winning video content with just one borrow. Binge nonfiction series about nature, travel, science and more with Curiosity Stream, or take a course with The Great Courses Video Library Collection.
7. Take a Wellness Break
Need a minute? The Teen Health & Wellness database offers a Calm Room to help you relax and de-stress. You can also explore a wide range of topics such as body basics, school, work and life skills, friendship and dating, grief and more. For additional health and wellness information, try our Gale Health and Wellness and MedlinePlus databases.
6. Learn a New Language
Did you know that the library offers two language learning resources?! Transparent Language and Rosetta Stone offer free interactive language learning. Read our recent blog post to learn more about each platform.
5. Learn a New Skill or Hobby
Universal Class offers over 500 on-demand courses for free. From math, coding and computer software to cooking, crafting and yoga, Universal Class has it all! And to sharpen your academic and career skills, check out Learning Library Express.
4. Make a Playlist with Hoopla
An epic adventure needs an epic soundtrack! Browse Hoopla's music section to find your perfect tracks. Hoopla allows users seven downloads per month.
3. Start a Book Club
Starting a book club has never been easier, just check out a Book Club in a Bag from the Library for eight copies of a book to discuss between you and your friends!
2. Visit the Library
From programs for all ages to gaming (teens only!) to comfy places to chill, the library has it all. View our online events calendar to learn more about what's going on at the library this summer. Added bonus: air-conditioning to help beat the summer heat.
1. Read!
Of course reading is our number 1! Here are a few ways to read with us this summer:
Stay Informed
When you subscribe to the blog, we will send you an e-mail when there are new updates on the site so you wouldn't miss them.
Comments
No comments made yet. Be the first to submit a comment