Create Your Own Costumes!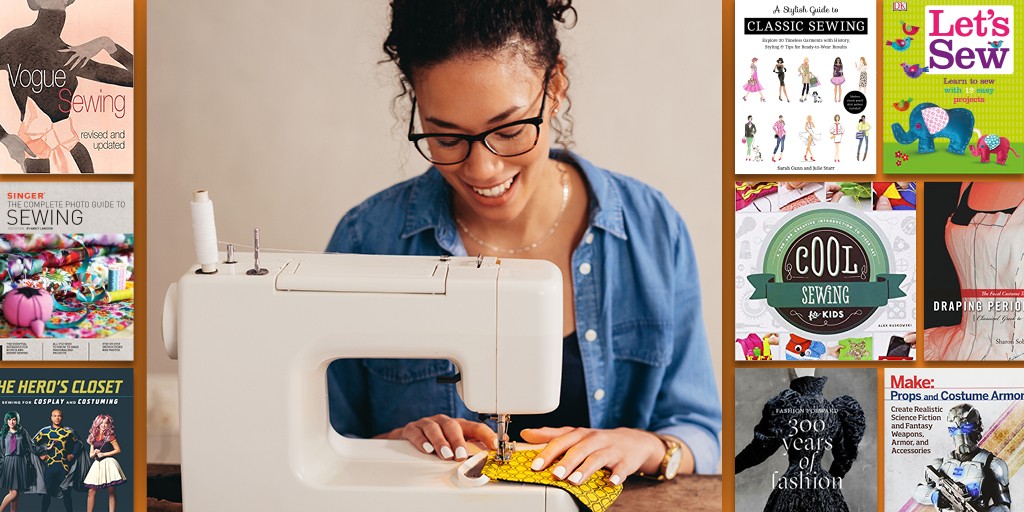 Bridgerton made quite a splash this winter with its colorful interpretations of Regency dress! Costuming and cosplay, inspired by books, television shows, movies, or even a fantastic podcast, are fun ways to enjoy your favorite media, interact with other fans, and exercise your creativity. We've pulled together a list of some of our favorite resources to help you create the costume of your dreams.
There are many ways to recreate your favorite character's outfits, but most of them require basic sewing skills. Singer: The Complete Photo Guide to Sewing by Nancy Langdon and Vogue Sewing are great references to have on hand. Both Vogue and Singer have been leading names in the industry for over a century, and their guides have been tested and refined over that time. They clearly depict a variety of techniques, from beginner to advanced. For some fun, low stress projects to help you hone your sewing skills, check out Print, Pattern, Sew: Block-Printing Basics + Simple Sewing Projects for an Inspired Wardrobe by Jen Hewett.
For kids (or even older beginners!), Let's Sew by DK Publishing, Inc is a fun book with easy hand stitching projects. If you can master a running stitch, backstitch, and whip stitch, you can sew anything, and this book will show you how. And while you don't need a sewing machine to make costumes, if you have one, Me and My Sewing Machine: A Beginner's Guide by Kate Haxell explains how they work! It covers the parts, standard stitches, and common troubleshooting steps. Try some practice projects from My Doll, My Style: Sewing Fun Fashions for Your 18-inch Doll by Anna Allen or Cool Sewing for Kids: A Fun and Creative Introduction to Fiber Art by Alex Kuskowski.
Biopics like Hidden Figures, Gentleman Jack, and Belle show us how real people lived based on the stories they left behind, while historical fiction, like Bridgerton and Outlander, allows for greater imagination and interpretation. Books such as 20,000 Years of Fashion: The History of Costume and Personal Adornment by François Boucher and Fashion Forward: 300 Years of Fashion: Collections of the Musee des Arts Decoratifs, Paris can help you research and pinpoint the types of garments and accessories you need for your ensemble.
Learn how to construct these garments using Draping Period Costumes: Classical Greek to Victorian by Sharon Sobel. This book will show you how to create the gorgeous silhouettes worn over several thousand years. Cosplay as Achilles or Patroclus from Madeline Miller's Song of Achilles or one of Jane Austen's many heroines. The American Duchess Guide to 18th Century Dressmaking: How to Hand Sew Georgian Gowns and Wear Them with Style by Lauren Stowell and Abby Cox is great for recreating looks from the 1700s like those in Hamilton.
If the 20th Century is more your vibe, check out A Stylish Guide to Classic Sewing: Explore 30 Timeless Garments with History, Styling & Tips for Ready-to-Wear Results by Sarah Gunn and Julie Starr. This book shows you the basics of modern clothing construction so you can recreate looks from Mad Men, Lovecraft Country, or even Schitt's Creek.
And for the most outlandish costumes inspired by far off galaxies and mythic realms, try The Hero's Closet: Sewing for Cosplay and Costuming by Gillian Conahan and Props and Costume Armor: Create Realistic Science Fiction and Fantasy Weapons, Armor, and Accessories by Shawn Thorsson. Both will show you a variety of techniques from molding and casting, using latex, and painting. Use these skills to transform into a space alien, your Dungeons & Dragons character, or favorite horror movie creature.
These books really just touch on a huge topic! If you are looking for information on a particular time period, technique, or for more resources, we are happy to help! Call or use the green Ask a Librarian tab (on the right side of the page) to get research help from library staff.
Stay Informed
When you subscribe to the blog, we will send you an e-mail when there are new updates on the site so you wouldn't miss them.
Comments
No comments made yet. Be the first to submit a comment