May is Mental Health Awareness Month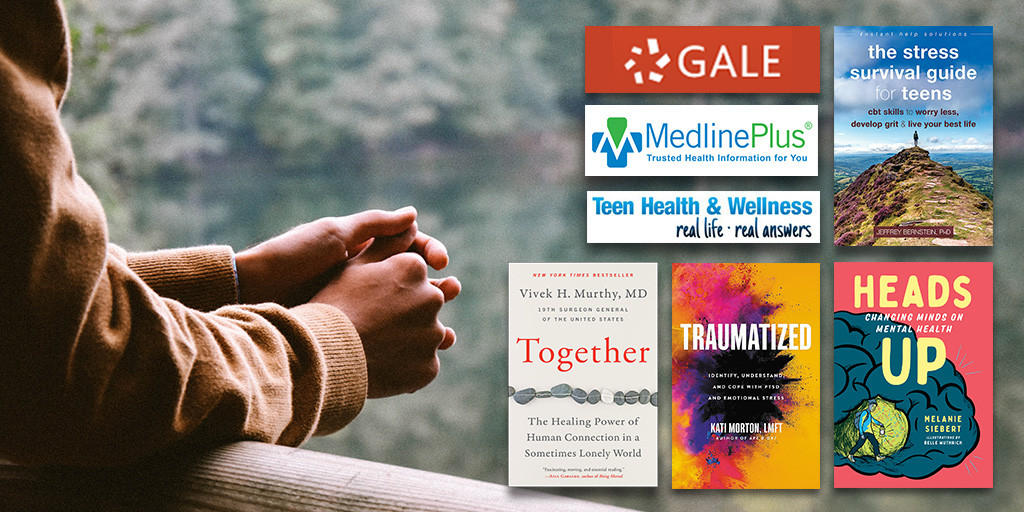 In 1949 the Mental Health America organization designated May as Mental Health Awareness Month to bring attention to mental health issues. Mental health is defined as "our emotional, psychological, and social well-being. It affects how we think, feel, and act as we cope with life. It also helps determine how we handle stress, relate to others, and make choices." (Medline Plus).
In 2020, 21% of the United States population ages 18 and older, around 52.9 million adults, and 16.4% of youth ages 6-17, experienced a mental health disorder (SAMHSA, October 2021). 5.6% of adults experienced a serious mental illness. The library offers informative resources on the subjects of health and wellness, and is offering educational programs in May to support Mental Health Awareness Month. If you or a loved one needs support or treatment for a mental health condition, or if you or someone you love is in crisis, the experts at Henrico Mental Health and Developmental Services can help.
Read on to learn more about what's available at the Library.
DATABASES
This revolutionary resource answers the need for a fully integrated, ever-growing electronic resource center for all levels of health research. Rely on the Health & Wellness Resource Center for instant access to carefully compiled medical reference and periodical materials that you can trust.
The National Library of Medicine brings you information about diseases, conditions, and wellness issues in language you can understand. Learn about the latest treatments, look up information on a drug or supplement, find out the meanings of words, or view medical videos or illustrations. You can also get links to the latest medical research on your topic or find out about clinical trials on a disease or condition.
A comprehensive database that provides teens (and those who care about teens) with research support and self-help on issues important to their well-being. Student-friendly articles make complex topics understandable and give insight into the teen experience. Teens can submit their own questions and user-created content to get a personalized experience.
COLLECTION
Browse recent titles from our Collection that address mental health topics:
UPCOMING PROGRAMMING
Sat., May 14, 2-3 PM at Libbie Mill Library
Sat., May 21, 11 AM – 12 PM at Fairfield Library
Two leaders from NAMI (National Alliance on Mental Illness) Central Virginia will provide an engaging presentation that helps audience members learn about the warning signs of mental health conditions and what steps to take if you or a loved one are showing symptoms. Questions and discussion will be encouraged to gain understanding of an often-misunderstood topic.
Meditation & Mindfulness Workshop for Adults
Sat., May 14 & 21, 10-11:30 AM at Libbie Mill Library
Explore new ways of managing stress, being present, and connecting with yourself and the world around you. A certified facilitator from the Innerwork Center will offer insights on the benefits of mindfulness and lead you through a variety of guided exercises.
Tues., May 17, 7-8 PM at Twin Hickory Library
Music therapist Anna McChesney from Healing Sounds, LLC, shares how music can be a vital and creative part of your mindfulness routine. This is a great opportunity to learn how music facilitates healing, and to experience it yourself through an expertly guided session.
Registration is required for this program. Because of the nature of the musical session, we cannot allow latecomers to enter the meeting room after it has started. Please be sure to arrive on time.
Tues., May 17, 7-8:30 PM at Libbie Mill Library
Craft your own skincare products to help create mindfulness during school and life stresses. Your instructor Joelle will introduce you to keeping your own apothecary, picking and drying herbs, and aromatherapy applications. Everyone will take home a small product that will energize, focus, and relax them!
Color Yourself Calm for Adults
Thurs., May 19, 7-8:30 PM at Fairfield Library
Express yourself through coloring. All materials will be provided. Materials to spark further creativity will be available for check out.
Wed., May 25, 7-8 PM at Twin Hickory Library
Take some time for your mental health during National Mental Health Awareness Month. Explore new ways to manage stress, school, and self-care with an experienced mindfulness representative from Innerwork Center.
Stay Informed
When you subscribe to the blog, we will send you an e-mail when there are new updates on the site so you wouldn't miss them.
Comments
No comments made yet. Be the first to submit a comment