Hispanic Heritage Month at HCPL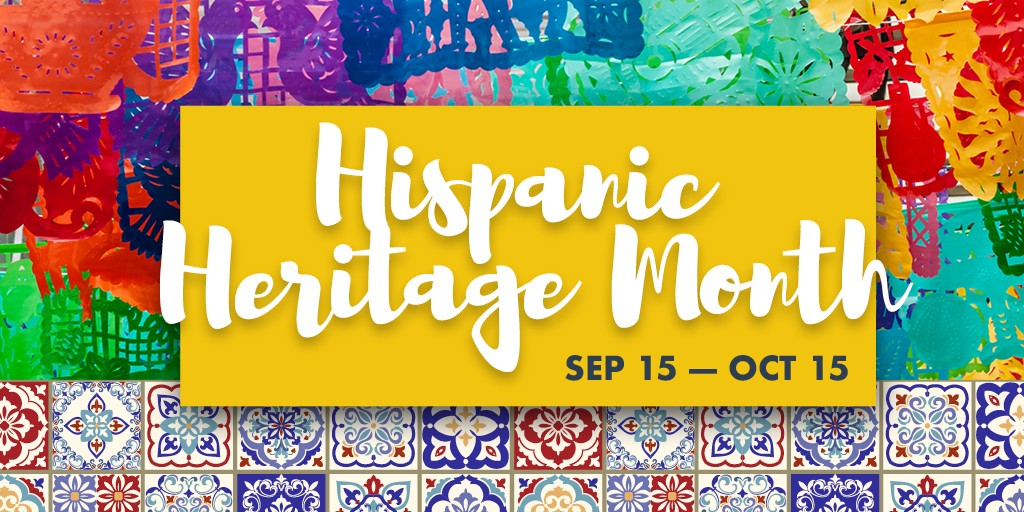 In celebration of National Hispanic Heritage Month, Assistant Library Manager at Varina Library and chair of the HCPL IDEA (Inclusion, Diversity, Equity, and Anti-Racism) committee Cristina Ramirez has penned a special guest contribution to our blog. Please read on to discover how you can learn more about Latinx culture and history and the library, and how members of the Latinx community can engage with library resources.
For this year's Hispanic Heritage Month, I, as a proud Spanish-speaking Latinx Librarian, write from my house in Segovia, Spain. I work at the Varina Library and Chair the IDEA Committee for HCPL. Through this committee, staff representing all locations and departments help craft ideas and create programming that serves and represents our increasingly diverse communities in Henrico County.
Every day I have been on vacation in Spain, I have had the opportunity to live and experience the term "Columbian Exchange" first hand. It is a term coined by the historian Alfred Crosby to explain the far-reaching phenomenon of cultural, linguistic, culinary, material, animal, agricultural, and other exchange between Indigenous peoples in the Americas and Spain and Portugal. For example, I have enjoyed food in Spain that is considered iconic, yet is made with foods brought from the Americas.
The Columbian Exchange resulted in a mixing of peoples that gave rise to the Latinx communities of today. It led to a cultural exchange that is lived today across the Atlantic by millions of people. What specifically was exchanged? Cows and horses came to the Americas from Spain, forming our southwest culture. Potatoes, corn, sugar, tobacco, and tomatoes shaped the foods and cultures of Europe. These foodstuffs and trade exchanges also had significant social, linguistic, genetic, and dietary impacts in Europe and the Americas. There were significant and harmful negative consequences of the Columbian Exchange as well, such as disease transmission, the decimation of some Indigenous populations, and slavery. We still grapple with the impacts of these today in Virginia, the United States, and Latin America.
The complex legacy of the Columbian Exchange can be better addressed and understood when we share resources produced by the descendants of this encounter between cultures and countries. The films, books, and other stories created by Latinx people can help us learn about this history and the cultures that emerged. You can discover these resources at the library. During Hispanic Heritage Month and beyond, Henrico County Public Library offers interesting and important programs that can help the larger community learn about the wide-ranging and diverse Latinx communities that shape Henrico County and Central Virginia. Here are upcoming programs on our calendar that celebrate Hispanic Heritage Month:
9.20.21 Discusion de Libros Latinoamericanos—Book discussion in English with bilingual speakers present, at Fairfield
De Cómo las Muchachas García Perdieron el Acento por Julia Alvarez. Desarraigadas de su hogar familiar en la República Dominicana, las cuatro hermanas García, Carla, Sandra, Yolanda y Sofía, llegan a la ciudad de Nueva York en 1960 para encontrar una vida muy diferente de la vida privilegiada que tenían. / Uprooted from their family home in the Dominican Republic, the four Garcia sisters—Carla, Sandra, Yolanda, and Sofia—arrive in New York City in 1960 to find a life far different from the privileged life they had. Join us to discuss How the García Girls Lost Their Accents by Julia Alvarez.
9.20.21 Varina Evening Book Discussion
Family and folklore intertwine in 1920s Mexico in Gods of Jade and Shadow by Silvia Moreno-Garcia.
9.27.21 Fairfield Film Discussion Group
This lively monthly discussion centers around two films based on this year's theme of Academy Award-winning Directors. For September we'll look at the films of Alejandro González Iñárritu, characterized by multiple interconnected storylines within breathtaking, often brutal scenery. The two Iñárritu films we'll traverse are Babel (2006, R) and The Revenant (2015, R).
10.6.21 Bingo en Espanol! at Twin Hickory
Meet us at Twin Hickory Library if you are a beginning or intermediate-level Spanish speaker. Test your basic Spanish vocabulary skills in this fun, friendly, and non-competitive game of Spanish language Bingo for adults! Participate for a chance to win a prize.
10.8.21 Fire Safety Storytime with the Henrico Department of Fire (via Facebook Live)
In celebration of both Fire Safety Week and Hispanic Heritage Month, Henrico County Public Library will be teaming up with the Henrico Department of Fire for an extra special edition of Storytime. Tune in to Facebook Live to watch our librarians and firefighter Octavio McNally of Fire Station 19 deliver a book reading!
10.12.21 Technicolor Tuesdays (film screening at Libbie Mill)
Coco (2017, PG, 109 min.) In this gorgeous animated adventure, a boy named Miguel dreams of becoming a famous guitar player, despite the misgivings of his close-knit family. When his ambitions cause him to run afoul of a curse, he must journey into the Land of the Dead to seek forgiveness from his ancestors.

On the other hand of our information exchange, HCPL offers a wide range of resources that can help enrich and empower the lives of Latinx living, studying, and working in Central Virginia. All you need is to sign up and get a library card with us and a world of resources becomes available at any of our libraries and from your smart phone and computer. For example, we offer Rosetta Stone and Rocket Languages to learn English as a Second Language. We offer Tutor.com to aid in preparing to attend college though practice SAT, and ACT courses, other test prep, and tutors to aid in completing homework for school. There is also resume writing and career preparation through this other resources. Our Storyline offers the opportunity to hear stories weekly. Storytimes and the ESL Conversation Cafes provide avenues for families and adults to practice their conversational English and learn new skills. Finally, our eBook collections through Overdrive and Hoopla offer a wealth of eBooks and audiobooks to help develop reading, writing, and listening skills as well as literature and materials at all levels.

This Hispanic Heritage Month I invite all community members from the Latinx community to join our HCPL system, sign up your families for library cards, and take advantage of all the free resources we offer that can help you achieve your goals—such as school success, job hunting, and developing new skills. I also invite members of the larger Henrico and Central Virginia Community to learn about the rich diversity of the regional Latinx communities through our collections, programs, and events. Libraries play a unique role in information exchanges that enrich all communities they serve.

Cristina D. Ramirez, MPA, MSLS, MA
Board of Directors, Richmond Chapter, Virginia Center for Inclusive Communities (3 terms)
Commissioner, Richmond Human Rights Commission, 2017-2021
Director, Asian & Latino Solidarity Alliance of Central Virginia
VP, Richmond Region LULAC Council 4614
VP, Phi Beta Kappa Association of Richmond
Board of Trustees, Science Museum of Virginia
Leadership Metro Richmond, Class 2008
Community Trustbuilding Fellowship, Class of 2015
Community Leadership Institute, Jewish Community Federation of Richmond, 2021
Assistant Area Library Manager, Varina Area Library
Stay Informed
When you subscribe to the blog, we will send you an e-mail when there are new updates on the site so you wouldn't miss them.
Comments
No comments made yet. Be the first to submit a comment