Spooky Books for Tweens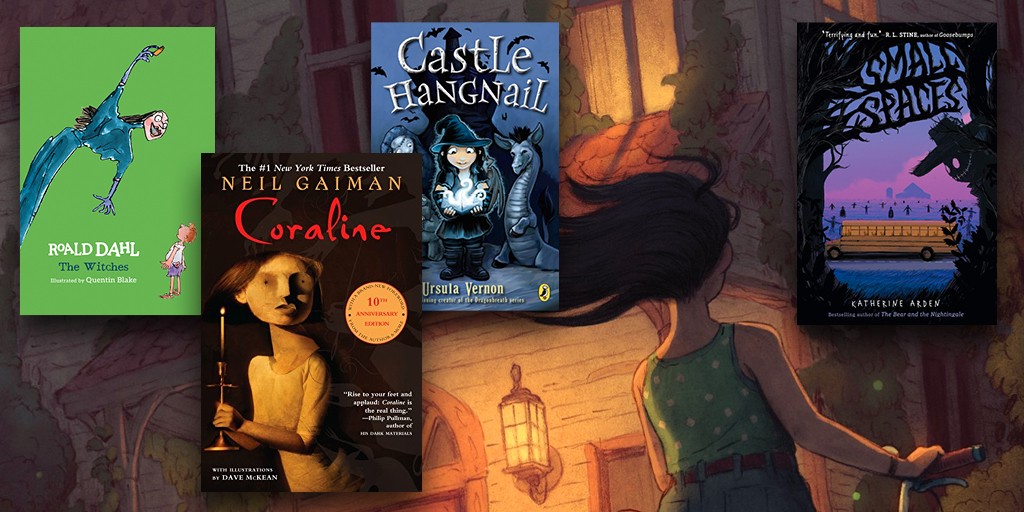 For many, a fascination with spooky tales starts young, with simple ghost stories and rhymes. As children age, it can be hard to find books with just the right amount of fright. Below is a selection of stories for ages 9-12 that might just be the perfect spooky read.
Nightlights by Lorena Alvarez – Sandy is an artist who escapes into drawing. One day she befriends a mysterious lilac-haired girl who somehow knows about, and seeks to control, Sandy's art. This is a beautiful graphic novel about using imagination to overcome adversity.
Castle Hangnail by Ursula Vernon – A quirky little witch sets out to become the Master of her own castle, but what she didn't anticipate is how hard that may prove to be. This delightful tale comes complete with a supporting cast of spooky yet charming minions and offers great depth and heart. Also available on Overdrive and on Hoopla as an audiobook.
Root Magic by Eden Royce – In 1960's South Carolina, Jezebel Turner and her twin brother, Jay, begin to learn their family's root magic from their Uncle, Doc. When evil targets their town, eleven-year-old Jezebel must summon all the magic inside herself to see her through. Also Available on Overdrive.
Coraline by Neil Gaiman – When Coraline finds her world a little too dull and decides to go adventuring, she gets a lot more than she bargained for. Coraline must fight to get back to her real life, mother, and father in this delightfully creepy story. Also available on Overdrive and Hoopla.
The Witches by Roald Dahl – Soon after coming to live with his Grandmama, a young boy learns the unthinkable: witches are real! Grandmama does everything she can to prepare him in time to stop the Grand High Witch and her nefarious plan. Also available on Overdrive.
Small Spaces by Elizabeth Arden – Ollie saves a book from the grip of a crazed woman and discovers a chilling story inside. On a school trip the next day, she finds a creepy real-world connection with the story in her book. When the bus breaks down on the way home and the driver tells them to escape to the woods, Ollie's hair-raising adventure kicks into high gear. Also available on Overdrive.
Spirit Hunters by Ellen Oh – When Harper and her family move into a new home, she does not believe stories about it being haunted. Then her brother begins acting strangely, and Harper has to unravel the mystery with the help of her Grandma Lee, or else risk losing the brother she loves. Also available on Overdrive and Hoopla.
Ghost Squad by Claribel A. Ortega – Lucely's father runs ghost tours in St. Augustine. When Lucely discovers that her Dad is struggling and might lose their house, she fears for the dragonfly spirits that inhabit it. In trying to save the house, she awakens malevolent spirits and must fight to vanquish the evil she unleashed. Read this book for a fun and touching ghostly romp. Also available on Overdrive and as an audiobook on Hoopla.
Stay Informed
When you subscribe to the blog, we will send you an e-mail when there are new updates on the site so you wouldn't miss them.
Comments
No comments made yet. Be the first to submit a comment