Summer Reading Wrap-Up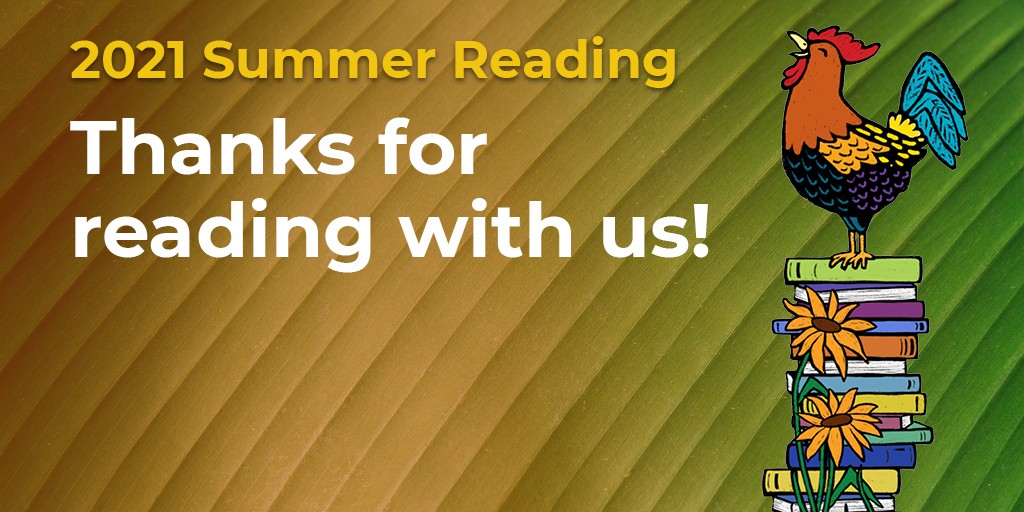 From all of us at the library, we would like to give a resounding Thank You! to all who read and learned with us during Summer Reading. Together we logged tons of books, shared lots of great book reviews, attended library programs, and completed learning activities all summer long. Read on to get some final Summer Reading stats and check back as we announce grand prize winners.
Summer Reading helps all of us to keep our reading skills sharp over the summer. For students, this helps to maintain the progress in reading that was earned over the previous school year. You all worked hard to keep reading and learning this summer.
Here's a rundown of your achievements:
Books logged: 62,023
Reviews submitted: 3,286
Activity badges earned: 5,981

Your book reviews were amazing and seriously expanded the TBR (to be read) lists of our librarians! Here is a small sample:
The Bruce Swap by Ryan T. Higgins – Reviewed by Gordon (Libbie Mill reader): I like this book because the animals get to make a huge mess when Bruce is gone. It is funny that they think Bruce is the same as his cousin. In the end they eat a lot of pizza!
Thank You, Garden by Liz Garton Scanlon – Reviewed by Parker (Fairfield reader): They were growing a lot of things. And they were waiting, waiting for the garden to grow to have a feast. I liked it.
Science Comics: The Digestive System by Jason Viola – Reviewed by Luke (Twin Hickory reader): This book teaches readers about the digestive system in a fun and entertaining way. A small microbe gives a tour through the mouth, then encounter other bacteria who teach about different parts about the digestive system.
The Cousins by Karen M. McManus – Reviewed by Tyra (Varina reader): This book was maxing from beginning to end it had me on edge. The characters were well thought of. And once you think you figured it out another plot twist hits.
Later by Stephen King – Review by Stacy (Tuckahoe reader): From a young male protagonist, to a well developed real life details that dovetail with the supernatural, to a dose of gore, to well placed nods to previous work, this is a fantastic showcase of King's strong points. Quick, fun read with a great twist at the end.
You also shared some great stuff through the activity challenges. One thing we asked you to do was to read something funny and then try to make up your own joke. Your jokes were priceless. Here are a couple of stand-outs:

Jack (Libbie Mill reader and rising 1st grader):
Q: Do you want to hear a construction joke?
A: It's not done yet!"
Hilarious!!

Natalie (Tuckahoe reader and rising 10th grader):
Did you ever hear the joke about the horse that stopped thinking and disappeared? Well this joke would make more sense if I told you it was about Descartes' saying "I think therefor I am" but to tell you that would be to put De cart before the horse.
Way to get philosophical with your joke. It's funny because it's true.

Amazing work everybody!
We also had some awesome grand prizes to give away. Here are our winners (they have already been contacted):
Ben P. won the binoculars
Ethan W. won the Nintendo Switch
Blake N. won the Children's Museum of Richmond membership
Cora L. won the Lewis Ginter Botanical Garden membership
Nora H. won the Science Museum of Virginia membership
Congratulations to our winners, and to all of you who finished the program and participated in Summer Reading. All of us are winners when we read and learn together!
If you're looking for more reading challenges for during the school year, parents and caregivers of small children are encouraged to sign up for 1000 Books Before Kindergarten, sponsored by the Friends of the Library. And keep an eye out for an exciting option coming for teens this fall.
Happy reading!
Stay Informed
When you subscribe to the blog, we will send you an e-mail when there are new updates on the site so you wouldn't miss them.
Comments
No comments made yet. Be the first to submit a comment