Love Against the Odds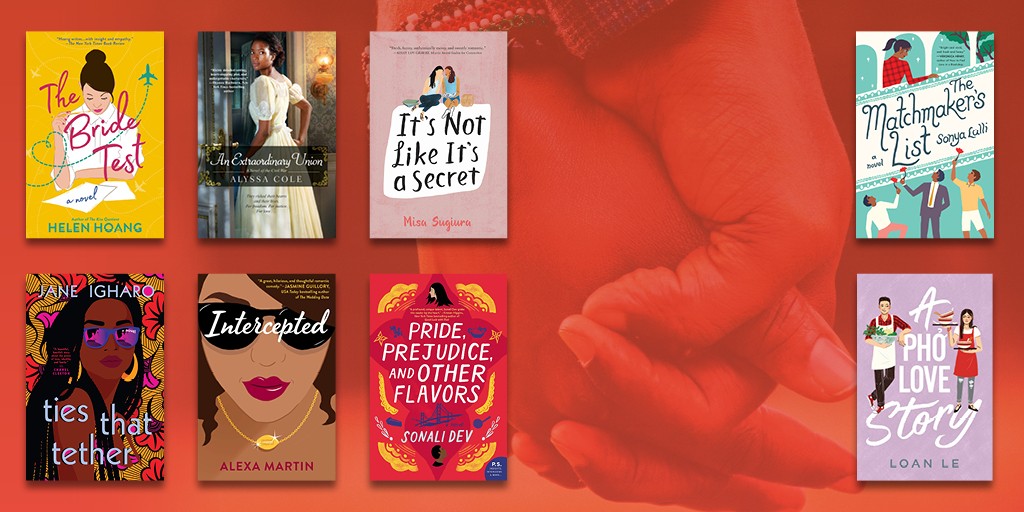 Romeo and Juliet. Heloise and Abelard. Anna Karenina and Vronsky. Some of the most stirring romances in history and fiction walk the tightrope between tradition and modernity, duty and passion, family and society, self and other. These fantastic romances ask the question: can you be remain connected to your family AND follow your heart? Keep reading to find your next romantic read.
The Bride Test by Helen Hoang – Khai is a successful San Jose techie on the autism spectrum who believes he is unable to feel attraction, let alone love. His mother travels to Viet Nam in search of a bride that will take the time to understand and love him. Khai's experience as he deals with sensory overload during intimacy adds authenticity to the steamy sensuality in the novel.
An Extraordinary Union by Alyssa Cole – A formerly enslaved woman acting as a spy behind Confederate lines falls in love with a Pinkerton detective in this historical drama filled with danger and intrigue. Together they discover a plot to turn the war in the Confederacy's favor. Can they make a devastating sacrifice—to save the Union, but lose each other?
It's Not Like It's a Secret by Misa Sugiura – In this YA novel, Sana is a 16-year-old girl with some big secrets. Her father is having an affair. Also—she might have a little crush on her (female) best friend. When Sana and her family move to California, Sana meets the beautiful and smart Jamie Ramirez and decides that it's time to start being honest.
The Matchmaker's List by Sonya Lalli – Raina is a successful Toronto investment banker whose first love refuses to commit to her. Nearing thirty, she throws up her hands and decides to go down her grandma's list of eligible Indian bachelors. But following tradition is not Raina's strong suit. As the pressure to please her family mounts, Raina continues to delay in any way she can. Meanwhile, Mr. Right appears, but can Raina let go of her first love?
Ties that Tether by Jane Igharo – Before Azere moves to Canada from Nigeria, she makes a promise to her dying father—she will marry a Nigerian man. Once in Canada, her mother keeps her strictly within a Nigerian dating pool. After another one of Mom's matches fails (again), she ends up meeting and falling for a white man, Rafael Castellano—a match her mother could never condone. Things between them get serious and she has to choose between remaining a dutiful daughter or following her heart.
Intercepted by Alexa Martin – When Marlee finds out her NFL star boyfriend has been cheating, she determines never to date another athlete again. Enter Gavin, the new hotshot quarterback, who gives his all to prove that he is not like Marlee's ex. Meanwhile, the team wives are not happy to welcome Marlee back and are bent on taking her down. Can Chris and Marlee's love make the playoffs—or even last the season?
Pride, Prejudice and Other Flavors by Sonali Dev – When Dr. Trisha Raje's socially climbing mother hires chef DJ Caine to cater an event, Trisha ends up on his bad side after a disaster with his caramel sauce. Acrimonious sparks fly hard and fast—but to complicate matters, DJ learns that Trisha is the only neurosurgeon that can help his sister Emma, who needs surgery for a brain tumor. In spite of their initial rancor, their attraction grows—against the wishes of Trisha's family.
A Pho Love Story by Loan Le – Bao Nguyen is his parent's fifth-favorite employee at the family pho restaurant. Linh Mai works practically full time at her family's competing pho restaurant—just across the street from Bao's. Their families have feuded for years, so the two have long avoided one another. An accidental encounter forces them together in spite of their previous efforts. Will their families' complicated past nip their romance in the bud?
Want more great Romance picks? Call or visit your library for more recommendations or try My Next Read to get a custom list of titles you might enjoy sent via email. We would love to hear from you!
Stay Informed
When you subscribe to the blog, we will send you an e-mail when there are new updates on the site so you wouldn't miss them.
Comments
No comments made yet. Be the first to submit a comment