Books That Send a Chill Up Your Spine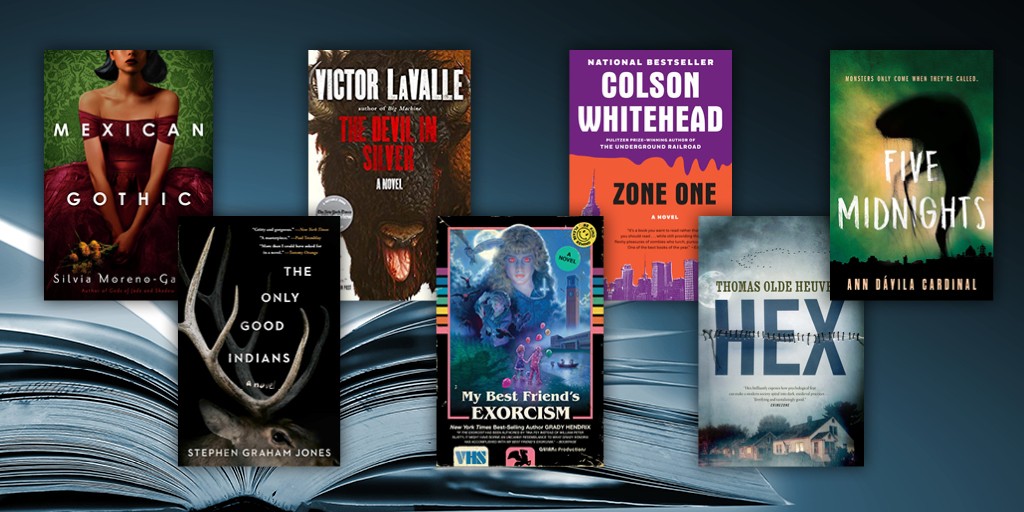 It's October and we are right in the midst of the spooky season. The days are shorter, Halloween decorations are going up, and there's a chill in the air. For horror fans, it's the perfect time of year to share some of our favorite titles.
What are you most afraid of finding in the shadows? For some, it's ghosts, for others, monsters, or even just the uncanny and unknown. We've put together a list of titles that elicit those feelings and just give us the creeps. These titles include many different themes, but they all have one thing in common... they intend to scare you!
Mexican Gothic by Silvia Moreno-Garcia – Noemí goes to check on her cousin and finds herself trapped in a strange and unnerving stately home in rural Mexico. Surrounded by her extended family and their strict rules and traditions, she must find a way to survive in this new, frightening environment. Moreno-Garcia's newest coming of age story proves that creepy, decrepit old mansions aren't just found in the English moors. Also available on OverDrive.
The Only Good Indians by Stephen Graham Jones – We all have secrets, some buried deeper than others. Unfortunately for four friends, the past comes back for a gruesome revenge. Jones uses stunning depictions of tragedy written in haunting poetic prose, pulling you into the minds of the characters as they question reality. Also available on OverDrive.
The Devil in Silver by Victor LaValle – Like Jones, LaValle has perfected the art of distorting perceptions, leading the reader to question everything. The Devil in Silver is one of his earlier works, but possibly his scariest. There's a monster haunting the psychiatric ward, but is it real? Does that make it any less terrifying? Read to find out.
My Best Friend's Exorcism by Grady Hendrix – High school is already full of terrifying moments. Add in some supernatural and demonic elements, and you have quite the nightmare. Long time horror fans will pick up on the many easter eggs and allusions to favorite books, films, and television shows, while new readers can experience these devilish tropes for the first time in this fast-paced book. Also available on OverDrive.
Zone One by Colson Whitehead – Cleaning up after zombies is, quite honestly, a job no one wants. Follow Mark Spitz as he works his way through a post-apocalyptic Manhattan, and get drawn into this devastated world of mystery and decay. Also available on OverDrive.
Hex by Thomas Olde Heuvelt, translated by Nancy Forest-Flier – There's a centuries old witch standing silent and menacing in your dining room... how do you respond? It would depend on how normal the situation is and for residents of Black Spring, it has become very normal. This unsettling tale is filled with bizarre imagery that will stick with you long after you have finished the book.
Five Midnights by Ann Dávila Cardinal – When Lupe arrives in Puerto Rico, her uncle, the police chief, is investigating a devastating murder. Not everything is as it seems, and she is soon swept up in a supernatural mystery. Cardinal's writing completely transports you to Puerto Rico, capturing the spirit of the nation with evocative prose and a stunning blend of folklore and modern storytelling.
If you have any questions about specific content in these titles, please ask us. We're happy to help you find the perfectly terrifying tale just for you! Let us know what you are looking for using our My Next Read request form and we will send you a list of titles.
Stay Informed
When you subscribe to the blog, we will send you an e-mail when there are new updates on the site so you wouldn't miss them.
Comments
No comments made yet. Be the first to submit a comment