Here's Looking at You, Kid!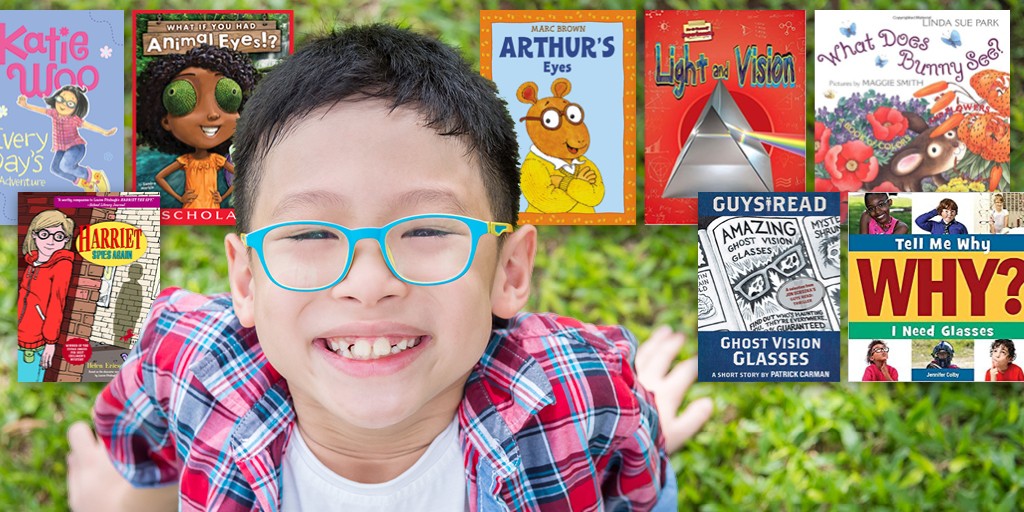 August is Children's Eye Health and Safety Month. The American Academy of Ophthalmology reminds everyone to schedule a routine eye exam to have your children fitted with the correct prescription or protection, depending on their needs. Although starting to wear glasses is disconcerting to some children, remember that many of our favorite book characters wear glasses!
Fiction
If you and your child are reading picture and early chapter books, check out the adventures of Marc Brown's Arthur the Aardvark, from his autumn frolics or entering contests, to being locked in a library.
There are also many fans of the lovably quirky "Katie Woo" series. These delightful books are about a bespectacled girl who manages to weather the flu, become a flower girl, go camping, and deal with a loose tooth.
Remember to meet Jory John's The Good Egg, who discovers that it's very hard to be a very good egg indeed when everyone else is rotten. He cracks a bit under the pressure of being perfect but discovers the importance of accepting others as they are.
You might discuss night vision after reading Owl Sees Owl by Laura Godwin. With spare, poetic text and cool color illustrations, we follow a baby owl who leaves the nest to explore his starry world.
The glory of our sense of vision shines in What Does Bunny See? by Linda Sue Park. Rhyming clues invite the reader to guess what Rabbit encounters in a flower garden.
For slightly older readers, get to know characters with glasses in these series.
Junie B. Jones has graduated from kindergarten and taken her mischief to whole a new level as a first grader. From Aloha-ha to Turkeys We Have Loved and Eaten, you're guaranteed a laugh in each chapter.
Jack Smith in the "Magic Treehouse" series by Mary Pope Osborne wears eyeglasses, and brings fresh eyes to challenges encountered in time travel mysteries he shares with his sister, Annie.
Fans of superheroes will remember Superman's alter ego, Clark Kent, hides behind a pair of dark-framed specs. You can find many reading level opportunities starring him in Overdrive's collection.
Middle grade readers will of course remember Harry Potter for wearing glasses, but you might want to guide them to solving mysteries with Harriet the Spy by Louise Fitzhugh. Vision-enhanced Harriet writes down details about everyone in her world, but her notebook ends up in the wrong hands.
If your reader prefers stories that are short and a little scary, Patrick Carman's story "Ghost Vision Glasses" is included the Guys Read Thriller collection. An ad promises glasses that allow you see into the spirit world. That can't work…..or can it?
In the Dog Diaries series, Kate Klimo's dog Buddy is the first dog trained at Dorothy Eustis' school for guide dogs. Based on a true story, the book includes an appendix of information about the history and training of guide dogs and how to host guide dog puppies.
Nonfiction
Sandra Markle's What if You Had Animal Eyes? has comic illustrations and well-researched facts about the special properties of critter vision. Learn about eyes that can point in every direction, others shine in the dark - very cool!
A wonderful explanation of vision correction comes from Tell Me Why I Need Glasses by Jennifer Colby. Age-appropriate explanations and appealing photos answer many compelling questions.
Appreciation for those who assist people who are visually impaired will be found in biographies of Louis Braille, creator of the Braille alphabet. Jen Brown's Six Dots is ideal for younger children and fans of the "Who Was" series can pick up Who Was Louis Braille?, Margaret Frith's biography of this amazing man.
Another nonfiction title for older readers is Vision by Jennifer Boothroyd. This book explains near and far sightedness, how vision works, and how our genes affect this physical feature.
Further scientific study of the visual sense is explained in Light and Vision by Ryan Jacobson. Clear, step-by-step instructions let readers explore the world of science through well-crafted, hands-on experiments. Colorful photos, informative illustrations, and easy-to-read text make the topics appealing and accessible.
According to the American Optometric Association, the longer a vision problem goes undiagnosed and untreated, the more a child's brain learns to accommodate the vision problem. A comprehensive eye examination is important for early detection and treatment. Provide the best opportunity to correct vision problems so your child can learn to see clearly and learn successfully.
Stay Informed
When you subscribe to the blog, we will send you an e-mail when there are new updates on the site so you wouldn't miss them.
Comments
No comments made yet. Be the first to submit a comment