Magical Worlds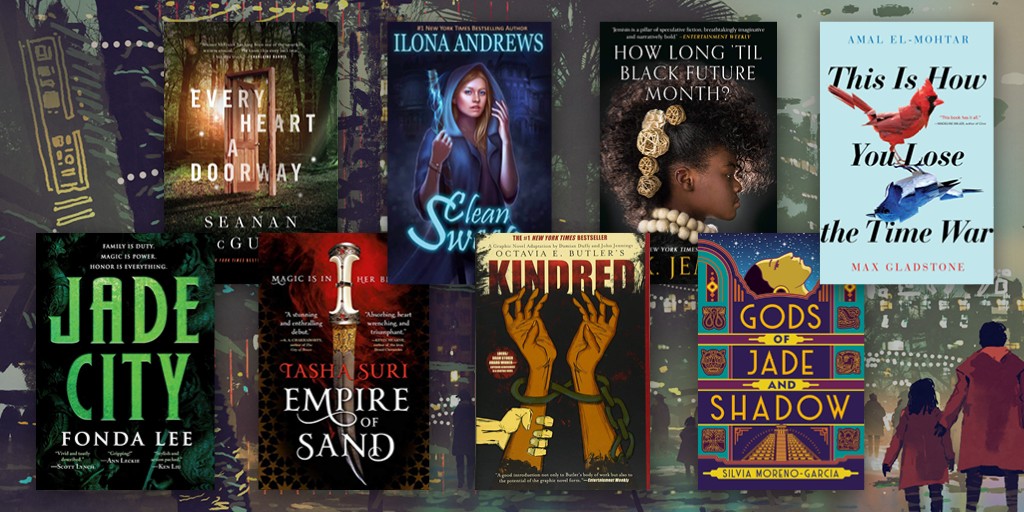 As a genre, fantasy has a little something for everyone… urban fantasy for a grittier experience, high fantasy for purists, portal fantasy for the adventurous, and more. In times of stress, fantasy can capture your attention, allowing you to escape into the story. From sentient cities to time traveling romance to magically enhanced Kung Fu, the titles below are a diverse offering of delights for adult readers.
Every Heart a Doorway by Seanan McGuire – This Hugo Award-winning novella is perfect for anyone who prefers their fantasy to have an edge of creepiness with a dash of strange. Eleanor West's Home for Wayward Children is where parents send children who claim to have fallen into macabre or ethereal worlds. What the parents don't know is that Miss West has experienced this phenomenon and is there to help the children cope with their very real adventures. When danger threatens the children, they must solve the mystery or risk never returning to the fantasy realms they call home. Also available on OverDrive.
Clean Sweep by Ilona Andrews – Dina Demille appears to be a simple Innkeeper and model citizen. What she is required to hide, however, is that her symbiotic relationship with the inn provides her with extensive powers. These powers allow her to host magical and intergalactic visitors. When a vicious predator begins attacking neighbors at night, Dina risks exposing herself and partners with a visiting vampire and a local werewolf to save her community. Also available on Overdrive.
How Long 'til Black Future Month by N.K. Jemisin – In this collection of short stories, N.K. Jemisin illuminates our current realities through fantasy and science fiction. Lyrical and sweet or spare and tense, each unique entry is a gripping experience. A stand-out story is the Hugo Award-nominated "The City Born Great."
This is How you Lose the Time War by Amal El-Mohtar and Max Gladstone – Two spies are at the heart of this twisting, time-traveling novella set in an ongoing time of war. The spies, called Red and Blue, are bound together by secret battlefield letters, written in beautifully dense and mellifluous prose. As the letters progress, their intrigue turns to forbidden love. Read to see who wins in the fight between Red's technologic future and Blue's garden paradise.
Jade City by Fonda Lee – Warring families use fantastical powers conferred by jade in this epic, urban fantasy saga. The Green Bone Clans are made up of warriors who can wear jade and harness its powers to enhance their fighting abilities. The Kauls struggle with their rivals to control the island of Keton. When a powerful new drug enters the market that allows anyone to wield jade as a weapon, the island is changed forever as the clans erupt into open warfare that will reshape their entire existence.
Empire of Sand by Tasha Suri – In this Mughal India inspired work, Mehr is the illegitimate child of an Ambhan governor and a member of the Amrithi nomads. Though raised in the Ambhan tradition after the departure of her mother, Mehr fights to maintain her ties to the desert spirits and Amrithi traditions. When strong powers of the desert materialize in her unexpectedly, Mehr is called to marriage with Amun, one of the powerful mystics in the empire. In the struggle for their freedom, she learns the truth about the empire's power and her own heart.
Kindred: A Graphic Novel Adaptation by Octavia Butler, Damian Duffy, and John Jennings – Dana is a young, Black writer in 1970's California who finds herself transported through time and space to a Maryland plantation in the mid-19th century. Over the course of several inexplicable visits, she discovers that she is there to ensure that her white, plantation-owning ancestor lives on in order to secure her own survival. The painfully haunting illustrations in this graphic novel, centered on the experiences of enslaved people, add powerful emotion to a lasting and important literary treasure.
Gods of Jade and Shadow by Silvia Moreno-Garcia – In 1920's Mexico, Casiopea acts as the family maid to her wealthy grandfather; paying for what he considers her mother's transgressions. Her world opens up with possibilities when she accidentally releases the Mayan God of Death from a chest and he offers her a way to earn her freedom.
Stay Informed
When you subscribe to the blog, we will send you an e-mail when there are new updates on the site so you wouldn't miss them.
Comments
No comments made yet. Be the first to submit a comment