Listening to #OwnVoices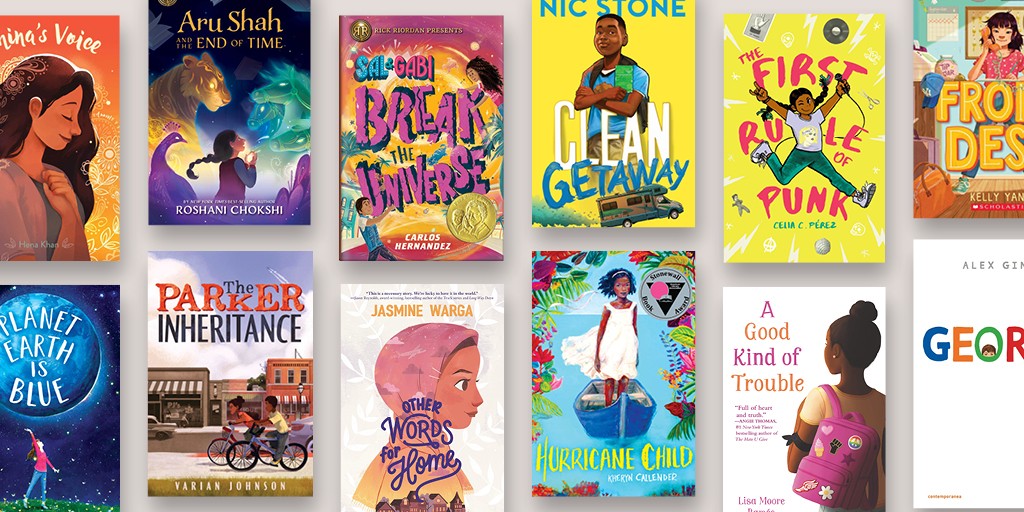 Increased diversity in children's literature has been a welcome and growing phenomenon over the past few years. Thanks to the work of organizations like We Need Diverse Books- a non-profit started in 2014 by a diverse group of children's and YA authors including Virginia residents Meg Medina and Lamar Giles- more children's books have been written and published featuring a wide variety of racially, ethnically, ability and gender diverse characters, allowing all children to see themselves and their experiences within the books they read. Here are some of our favorites.
Along with a call for more diverse children's characters there has also been a call for more diverse children's authors. In 2015, writer Corinne Duyvis started the #OwnVoices hashtag to call attention to the need for children's authors who share an identity with the diverse and marginalized characters they are writing about. The Own Voices movement recognizes that while featuring more diverse characters is a great start, it is equally if not more important to showcase the direct perspectives and voices of diverse communities. Authors with shared identities can offer more realistic and specific portrayals of life within their unique community, allowing children both inside and outside of that community a deeper understanding of their experience.
Reading #OwnVoices titles offers other benefits as well. Seeing not only characters but authors who are like themselves can help to encourage a child's positive self-identity, increasing their self-esteem and sense of personal power and providing a positive view of their own potential and future. Additionally, reading works by and about people whose cultural identities are different from their own can increase a child's cultural competence as well as their sense of empathy, equality and social justice.
The following is a small sampling of some great #OwnVoices middle grade titles that have come out in the last three years. For more #OwnVoices suggestions, ask your Children's or Teen librarian or fill out a My Next Read request and include #OwnVoices in the description box for a personalized reading list created for you by an HCPL librarian.
Hurricane Child by Kacen Callender – Bullied by everyone in her school on St. Thomas, haunted by a spirit only she can see, and missing the mother who abandoned her, twelve-year-old Caroline blames her bad luck on being born during a hurricane. But Caroline's luck begins to change when new student Kalinda arrives and becomes both her first friend and first crush, as they head into a new hurricane to help Caroline find her mother and herself. Also available on OverDrive.
Aru Shah and the End of Time by Roshani Chokshi – A poorly planned dare causes seventh-grader and avid storyteller Aru Shah to light a cursed lamp, awaken an ancient Indian demon, and learn that she is the reincarnation of one of the five Pandava brothers. Aru is launched into an epic adventure through Hindu mythology to rescue her mother and friends and stop the awakening of Shiva, God of Destruction. Also available on OverDrive.
The First Rule of Punk by Celia C. Pérez – When María Luisa O'Neill-Morales- Malu to her friends- moves to Chicago with her Mexican-American mother, she uses her love of all things punk to navigate middle school, identity, and individualism, proving to her new school that she's no 'coconut', but a true Mexican-American punk rock girl. Also available on OverDrive.
I Can Make This Promise by Christine Day – Although she always knew that her Native American mother was adopted and raised by a white family, Edie's curiosity is sparked when she discovers a box of letters in the attic from her mother's biological Native mother, starting her on a journey to discover family secrets and cultural history. Also available on OverDrive.
George by Alex Gino – George knows that people see her as a boy, but she knows that she is a girl, and the class production of Charlotte's Web provides the perfect chance for her and her friend to come up with a plan show everyone who she truly is, once and for all. Also available on OverDrive.
Sal and Gabi Break the Universe by Carlos Hernandez – Sal Vidón, a Cuban-American diabetic and amateur magician with the ability to open holes into alternate universes, and Gabi Real, ambitious journalist and unflappable student advocate with an excessive amount of dads, adjust to a new school year at Miami's Culeco Academy of the Arts as they work together to save Gabi's baby brother and keep the fabric of the multiverse in one piece. Also available on OverDrive.
The Parker Inheritance by Varian Johnson – After moving to a small, South Carolina town for the summer with her mother, Candice finds a decades old letter to her grandmother which leads her and her neighbor Brandon on a quest to solve family mysteries, uncover past and present racial injustices, and find a long forgotten fortune. Also available on OverDrive.
Amina's Voice by Hena Khan – Amina is a quiet, Pakistani-American, Muslim girl just navigating the normal social transitions and awkwardness of middle school when an act of vandalism at a local mosque calls into question her personal identity, her need to speak up, and the larger importance of community understanding. Also available on OverDrive.
Show Me A Sign by Ann Clare LeZotte – In 1805, eleven year-old Mary Lambert, who was born deaf, lives with her parents in a small Martha's Vineyard village populated by English and Wampanoag townspeople, many of whom are deaf. There are so many deaf residents that the island has its own sign language, a fact that attracts a young scientist with unscrupulous methods and motives, uncovering the harsh realities of both ableism and colonization. Also available on OverDrive.
Tight by Torrey Maldonado – Bryan is a Puerto Rican sixth grader with a difficult home life, a love of comic books, and an identity problem. When his father gets home from jail and an older friend leads him down a dangerous path, he must decide whether to listen to his father's threats or his mother's advice, whether to be tough or to be smart, whether to try to be someone else or to just be himself. Also available on OverDrive.
Planet Earth is Blue by Nicole Panteleakos – Twelve-year-old Nova is a severely autistic, non-verbal child in the foster care system. She is also an avid astronomy fan eagerly anticipating the launch of the space shuttle Challenger with her big sister, fellow space nut, and biggest supporter, Bridget. When Bridget disappears, Nova begins to show everyone else what she's truly capable of, launching her own journey as she waits for her sister to return.
A Good Kind of Trouble by Lisa Moore Ramée – At the start of junior high, as all of her friendships are rapidly changing, Shayla just wants to follow the rules and stay out of trouble. But a meaningful experience at a protest alters her perspective, and Shayla starts challenging both her school's and her own beliefs and decides that sometimes you have to cause some trouble in order to do the right thing. Also available on OverDrive.
Clean Getaway by Nic Stone – William "Scoob" Lamar is a biracial 11-year-old setting off on a road trip through the south with his beloved white G'ma. Along the way he learns about the Black grandfather he never met and the difficult history of interracial couples and racial tensions in the south, some of which have changed, and some which have not. Also available on OverDrive.
Other Words for Home by Jasmine Warga – Sent from her home and family in Syria to live with relatives in Cincinnati, Jude finds it hard to adjust to life in America and the new "Middle Eastern" identity which is thrust upon her. But with time and support she begins to adjust and find her own place and her own voice in her new home. Also available on OverDrive.
Front Desk by Kelly Yang – Chinese-American immigrant and ten-year-old Mia Tang moves to California with her parents in 1993, where they become proprietors of a local motel. There, while working behind the front desk, she grapples with the difficulties of pursuing the 'American dream' as a child of immigrants and person of color. Also available on OverDrive.
Stay Informed
When you subscribe to the blog, we will send you an e-mail when there are new updates on the site so you wouldn't miss them.
Comments
No comments made yet. Be the first to submit a comment