LGBTQIA+ Memoirs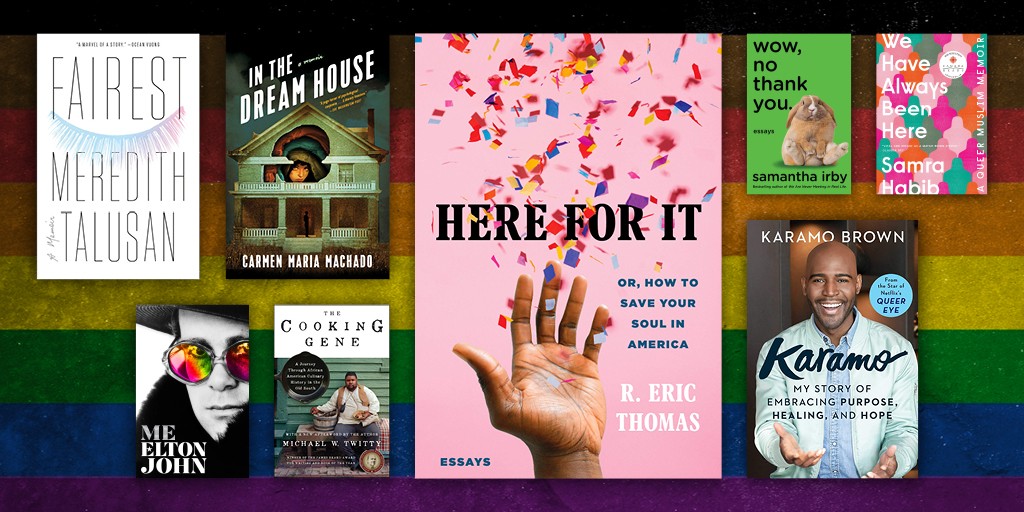 June is Pride Month, and in celebration, we wanted to share some of our favorite memoirs and autobiographies from the LGBTQIA+ community. Reading about other people's experiences can help us make connections and build empathy. The authors featured here come from a wide variety of backgrounds and lead different lives with unique experiences, occupations, and perspectives.
The Cooking Gene: A Journey Through African American Culinary History in the Old South by Michael W. Twitty – Using his family history and his extensive work as a historian and historical interpreter, Twitty takes his reader back through history, mapping African American culture to food. By connecting the past to his present, he examines what it means to be a Black, Jewish, gay man in America following the stories of dishes, meals, and cooking.
Karamo: My Story of Embracing Purpose, Healing, and Hope by Karamo Brown – You may be familiar with Karamo from Netflix's Queer Eye. In this memoir, he brings the same compassion he is known for on the show to his own life story – sharing his path to bring his readers closer together to heal.
Wow, No Thank You by Samantha Irby – If you've never listened to Samantha Irby read her work, you are missing out. She is brilliantly funny, and her raw storytelling doesn't shy away from anything. In this new collection, she discusses how drastically her life changes after marrying her wife and moving from Chicago to rural Michigan.
In the Dream House: A Memoir by Carmen Maria Machado – Machado's surreal writing forces the reader to experience the past along with her, mimicking the dreamlike state prompted by the title of the work. Like some of the more recent works of horror, the text shines a bright light on the darker side of relationships with an uncomfortable spectacle.
Fairest: A Memoir by Meredith Talusan – Talusan shares her experience of immigrating to America, struggling with gender presentation and other people's perceptions of her, but brings a new complexity to these often-chronicled topics. Her experience is unlike any other, and she tells it with a wonderful grace.
Here for It: Or, How to Save Your Soul in America; Essays by R. Eric Thomas – Read this memoir when you want to laugh. Thomas writes candidly about his relationship with the world and faith, interspersing the text with giggle-inducing quips, pop culture references, and poignant moments that make you stop and think.
We Have Always Been Here: A Queer Muslim Memoir by Samra Habib – Habib recounts her childhood in Pakistan and later life in Canada as a refugee with wonderful descriptive prose. This introspective and poetic memoir uplifts the reader, reminding us that there is hope in community.
Me by Elton John – This title has everything you expect from a pop memoir, lavish lifestyles, regretful decisions, insider gossip… but Elton, now much older, looks back with fondness and the wisdom of his years. He tells his tale with an honesty not usually present in memoirs of the rich and famous. This one is particularly good on audio.
If you would like to read more works of LGBTQIA+ writers, check out our Pride Month lists on OverDrive and Hoopla. You can also request a list of books made just for you using My Next Read. Just fill out a short form with books you love and our librarians will send you a list of titles we think you will enjoy.
Stay Informed
When you subscribe to the blog, we will send you an e-mail when there are new updates on the site so you wouldn't miss them.
Comments
No comments made yet. Be the first to submit a comment