Paws to R.E.A.D. at the Library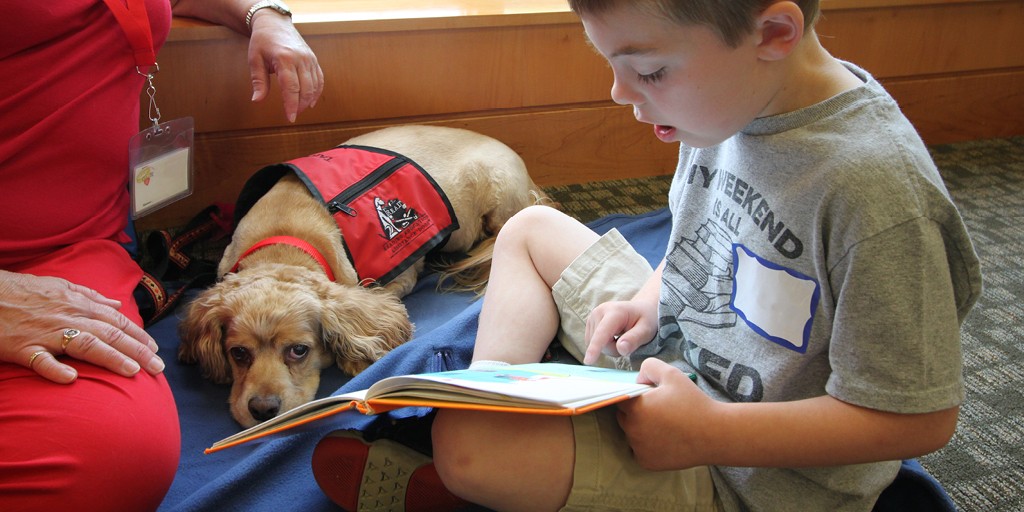 The Paws to R.E.A.D.® (Reading Education Assistance Dog) program brings young people and dogs together to practice reading! You can read to a certified therapy dog each month at Gayton and Varina libraries.
The certified and insured therapy dogs are nonjudgmental listeners for both reluctant and experienced readers to practice reading aloud. The dog's presence lowers the stress of the reader, allowing them to improve reading skills, comprehension, fluency, and confidence. Their owners are also trained literacy mentors and are able to help create a positive and supportive environment.
Paws to R.E.A.D. is presented by Sprite's HERO (Humane Education & Research Organization) and visits us each month on the second Saturday at Gayton Library (registration required) and on the third Saturday at Varina Library, with occasional other events. Check out our calendar for a list of upcoming Paws to R.E.A.D. programs.
Here are some books you can read during one of our Paws to R.E.A.D. programs, or to your pets at home.
Pre-K to 2nd grade:
The Most Magnificent Thing by Ashley Spires – This short story is about a little girl and her canine companion. They go work together to make the most magnificent thing in the world. Read to find out what it is!
Looking for Bongo by Eric Velasquez – Bongo is missing and no one knows where he is, not even the cat! This book is perfect for practicing new words in English and Spanish.
Can I Be Your Dog? by Troy Cummings – Arfy is a dog searching for a home, so he writes to each house and business on Butternut Street, hoping to find a family of his own.
I Don't Want a Posh Dog by Emma Dodd – It is important to find the right companion, and not just any dog will do. Not only is the story charming, but it is fun to read out loud!
Martha Speaks by Susan Meddaugh – Find out what happens when a dog eats alphabet soup and then can talk! What does Martha say?
Go, Dog, Go! by P.D. Eastman - An exciting tale about a dog and his journey through life. This book is sure to spark your imagination!
3rd grade to 5th grade:
How to Save Your Tail: If You are a Rat Nabbed by Cats Who Really Like Stories About Magic Spoons, Wolves with Snout-Warts, Big, Hairy Chimney Trolls – and Cookies Too by Mary Elizabeth Hanson – Bob is a charming, book-loving rat who is about to be eaten by two large and hungry cats. In order to save his tail, Bob starts telling fantastic and somewhat familiar stories to distract them from their dinner plans.
Juana and Lucas by Juana Medina – Read about life in Bogotá, Colombia for Juana and her canine companion, Lucas. The have lots of fun having adventures with their friends and learning new things in school.
Nubs: the True Story of a Mutt, a Marine, and a Miracle by Brian Dennis, Mary Nethery, and Kirby Larson – This non-fiction story tells of two strangers destined to be together. Nubs, a shabby and injured pack dog, and Major Brian Dennis, a US Marine in the Iraqi desert.
Bad Kitty series by Nick Bruel – When her family runs out of cat food, and attempts to feed her healthy vegetables instead, this good kitty goes bad. Follow along with her adventures in this exciting series.
Stay Informed
When you subscribe to the blog, we will send you an e-mail when there are new updates on the site so you wouldn't miss them.
Comments
No comments made yet. Be the first to submit a comment