Explore the Past: Historical Fiction for Kids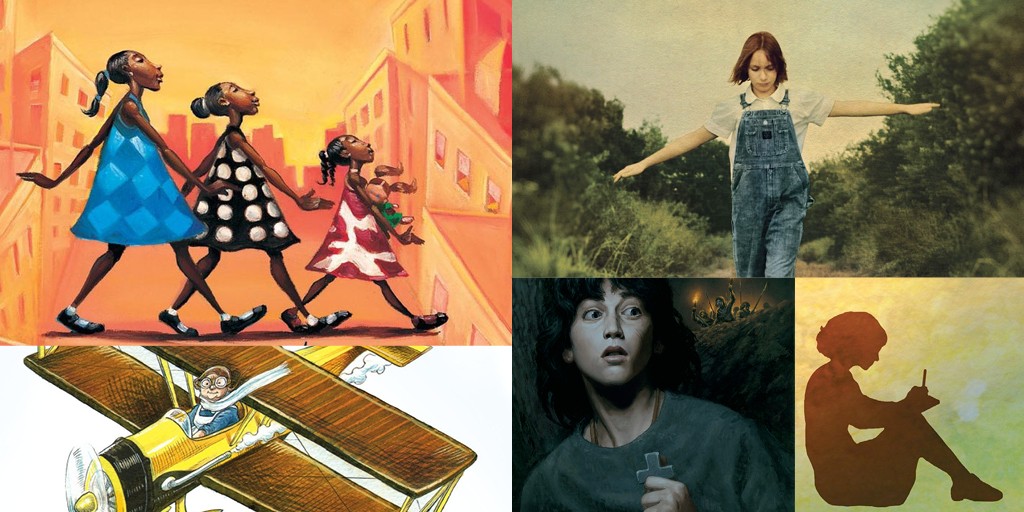 Ever wonder what it was like to live in a part of history? Historical fiction gives you a glimpse into the past. Well-written plots and richly drawn characters allow you to experience the trials and triumphs of great historical figures. These stories help us learn what it may have been like as a kid growing up during World War II, as an immigrant coming to America, or as a child living in the south during the Great Depression.
Below is a list of some of my favorite titles to get you started!
Moon Over Manifest by Clare Vanderpool – Follow the story of young Abilene as she spends a summer in Manifest, Kansas, a town dried out from the effects of the Great Depression. Things start to turn around as she makes friends with two kids from town and they all race to uncover a mystery dating back to World War I that involves a mysterious spy called "The Rattler".
Roll of Thunder, Hear My Cry by Mildred D Taylor – Set in the Deep South during the Great Depression, follow 9 year old Cassie Logan as she fights to maintain her integrity and independence. In a world of injustice, Cassie battles the effects of racism and segregation. When her family's land is threatened, Cassie must face the ugliness of hate and protect her family, whatever the cost.
Out of the Dust by Karen Hesse – Follow young Billie Jo as she grapples with the death of her mother and baby brother – an accident she was partially responsible for. She grows farther and farther apart from her father until one night, she decides to flee her past and leave the dust behind. Will Billie Jo survive on her own, or will she have to return to her father and confront her past?
Bud Not Buddy by Christopher Paul Curtis – Bud Caldwell's mother died and he finds himself in an abusive foster home. The only thing he has is a suitcase filled with his possessions, including flyers that his mother claims are the key to finding his father. Follow Bud on his adventure to find his father in this coming of age story set during the Great Depression.
A Long Way From Chicago by Richard Peck – A fun ride that takes you to the 1930s and introduces you to one remarkable character, Grandma Dowdel. An outspoken and moody woman, Mary Alice and Joe are left to navigate the complicated relationships that Grandma Dowdel has with the town during their many visits. I particularly love the quirkiness and mystery surrounding Grandma Dowdel, as well as how her grandchildren get to know her over the years.
One Crazy Summer by Rita Williams-Garcia – Follow the loveable Gaither sisters in the 1960's as they are sent by their father to visit their mother, Cecile, in California. Cecile, having abandoned the children when they were small, is uninterested in entertaining her daughters and sends them to the local Black Panthers' community center for the majority of the summer. Delphine, the oldest, must look after her very independent and spirted sisters, Vonetta and Fern, as they all try to build a relationship with their mother and change the injustices of the world. This books starts a series so if you love the Gaither sisters as much as I do, please make sure to read the next two books: P.S. Be Eleven and Gone Crazy in Alabama.
Crispin: The Cross of Lead by Avi – Follow "Asta's son" as he goes on the run following the death of his mother, who leaves him with her only possession, a cross of lead. He soon learns that he actually has a given name, Crispin, and that he is in mortal danger. As he flees across the land, he meets "Bear" a large, strange man who takes Crispin under his wing. A coming of age story with a mysterious twist, Crispin: The Cross of Lead is definitely one to read.
Wolf Hollow by Lauren Wolk – A treasure of a book and one of my all-time favorites in historical fiction. Annabelle lives in rural Pennsylvania in 1943. She is relentlessly bullied and terrorized by the new girl in town, Betty. Betty suddenly goes missing and all roads lead to Toby, a local World War I veteran and Annabelle's friend. Annabelle only know kindness from Toby but struggles to convince the rest of the town of his innocence. Can Annabelle save Toby from a terrible fate? Will Betty ever be found? I recommend this book for grades 6 and up.
Finding Wonders: Three Girls Who Changed Science by Jeannine Atkins – This delightful book tells the stories of Maria Merian, Mary Anning, and Maria Mitchell, scientists whose curiosity and interest as young girls lead them to make great discoveries in the natural world. Each story is told in a series of wonderfully descriptive poems that capture the girls' spirit and wonder at the world around them.
The Detective's Assistant by Kate Hannigan – Pinkerton Detective Agency is trying to keep President Lincoln safe. They get assistance from an unexpected source, Nell Warne, the twelve-year-old niece of Kate Warne, the first woman detective on their force. Nell is witty, clever, and an excellent observer, all skills a junior detective needs, but first she and her aunt must overcome past tragedies and learn to work together.
Stay Informed
When you subscribe to the blog, we will send you an e-mail when there are new updates on the site so you wouldn't miss them.
Comments
No comments made yet. Be the first to submit a comment