Comic Books for Teens and Tweens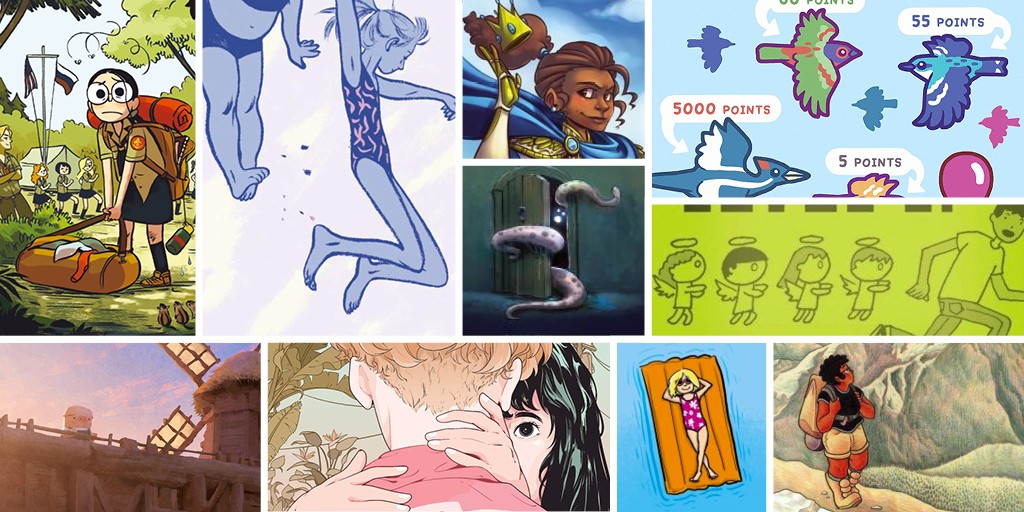 It is time to delve into summer reading with our "A Universe of Stories" theme. Consider adding more graphic novels to your to-be-read pile!
What is a graphic novel? It's a book filled with visuals. They encompass all genres, so while superheroes are frequently featured, there are so many more heroes to discover. If your brain could use less walls of text and more pictures, then try the recommendations below to get your summer reading started with amazing visuals.
Ages 9-12
In Be Prepared by Vera Brosgol, the author tells the story of heading to summer camp, but this is not just any summer camp – this camp is specifically for Russian American kids. However, when she gets there, Vera worries she may not be Russian enough. This is a funny graphic novel with a relatable story on feeling like a misfit. Check out The Breakaways by Cathy G. Johnson for more misfit fun plus soccer!
Sunny Side Up by Jennifer Holm and Matthew Holm lets us spend time with Sunny Lewin. Sunny has to live in Florida for the summer. That doesn't sound too awful, right? Well, Sunny is staying with her grandfather at his retirement resort, so it's tough to find friends her own age. This is a moving graphic novel set in the 1970s with a reassuring message that it's okay to be sad sometimes. For another moving tale about unexpected friends, check out Pilu of the Woods by Mai Nguyen.
Birding is My Favorite Video Game by Rosemary Mosco turns science into hilarity. This short book is filled with science cartoons that all ages find interesting and educational. Read about what a digger wasp's dating profile would be like, or learn all about the turkey vulture and its use of projectile vomiting for defense!
It is not easy moving into a strange house, especially when a demon pulls your mom into the basement. Emily and Navin are about to find out what else awaits them beyond the basement door in the Amulet series by Kazu Kibuishi. Check out The Sand Warrior by Mark Siegel to find the same vivid color and fantasy you'll find in the Amulet series.
A mysterious dangerous fog is looming and the only one who can keep it away is Pig, who finds himself having to keep the windmill going. It is lonely work and he does not want to be stuck with the windmill forever. Read The Dam Keeper by Robert Kondo to learn more about the fog's strange behaviors and how Pig confronts his fears once and for all.
Say yes to dragons! Do you enjoy the outdoors, but you need more fantastic adventures in your life? Try the Princeless series by Jeremy Whitley. Princess Adrienne is eager to show you how to rescue yourselves and make your own adventure! Princess Adrienne is not alone in her yearning for adventure. Also try Hereville: How Mirka Got Her Sword by Barry Deutsch, which is an offbeat tale about 10-year-old Mirka, who accepts a challenge from a witch.
There is nothing more calming than reading about tiny dragons who can grow tea leaves on their bodies. Greta, a blacksmith apprentice, finds this out for herself when she learns about a fading society of experts who care for the dragons and harvest their leaves. The Tea Dragon Society is the perfect laying-in-a-hammock fantasy read! If you enjoy The Tea Dragon Society, also check out Katie O'Neill's more recent work Aquicorn Cove to read about Lana and her magical seahorse!
Teens
If you find yourself missing the drama of high school, you will want to check out Laura Dean Keeps Breaking Up With Me. Frederica Riley, a.k.a. Freddy, is drawn to Laura Dean, the most popular girl in school, but she's caught between advice from her friends and the thrill of a destructive relationship. Read the graphic novel to find out how Freddy learns to help herself. Another great LGBTQIA+ comics is Check, please! Book #1: Hockey by Ngozi Ukazu. It is a coming of age story about Bitty, a pie-baking figure skater from Georgia.
Spending the summer at a lake house sounds charming, but for Rose it is bittersweet. Her parents argue all the time, the other teens in town mock her, and she is falling for the local convenience store clerk. This One Summer is full of feelings with adult topics and a beautiful melancholy. To get a little more real, try Maggie Thrash's memoir, Honor Girl, about Maggie's experience falling in love at Camp Bellflower.
Dennis Ouyang LOVES video games, and if you do too, then this is the graphic novel for you. Level Up by Gene Luen Yang is a coming-of-age story about a young man who savors his escapism through video games much to the disappointment of his parents. There is goofy humor, pushy angels, and striking that balance between enjoying yourself and honoring your obligations. Another gaming inspired comic is In Real Life by Cory Doctorow and Jen Wang. It is also a character-driven tale, but here we get into online role-playing gaming with Anda and Raymond.
The Misfit City series is ideal for fans of the 1980s cult classic, The Goonies, as we follow Wilder, who is bored by her hometown until she finds a pirate map! Check out this adventure about tiny towns and friendship. If you prefer a historical bend to your adventure, read the Delilah Dirk series by Tony Cliff.
As the Crow Flies by Melanie Gillman introduces us to Charlie, who wants to deepen her relationship with God. What better way to commune with nature and get in touch with her spirituality than a Christian backpacking trip? Yet, being both queer and black place Charlie at odds with the beliefs of her all-white peers. This graphic novel is thoughtful with moments of humor for anyone who wants to explore themes of religion, feminism, and friendship. If you want to keep the thoughtfulness, but you would not mind more food mixed in, try Meal by Blue Delliquanti.
Immerse yourself in this camp for "hardcore lady types" with Jo, April, Mal, Molly, and Ripley. The Lumberjanes expect to have a typical fun summer at camp until they start encountering strange and mystical creatures in the woods. Check out this spunky series, which is both funny and fantastical.
You won't find magical weirdness in Victoria Jamieson's Roller Girl as you would in Lumberjanes, but it deals with the theme of "We used to be friends" through the attention-grabbing use of roller derby!
We hope you enjoy these titles. If you would like to find out about more comics and graphic novels, or books from any genre, request your own personalized book list on our My Next Read page.
Stay Informed
When you subscribe to the blog, we will send you an e-mail when there are new updates on the site so you wouldn't miss them.
Comments
No comments made yet. Be the first to submit a comment