Juneteenth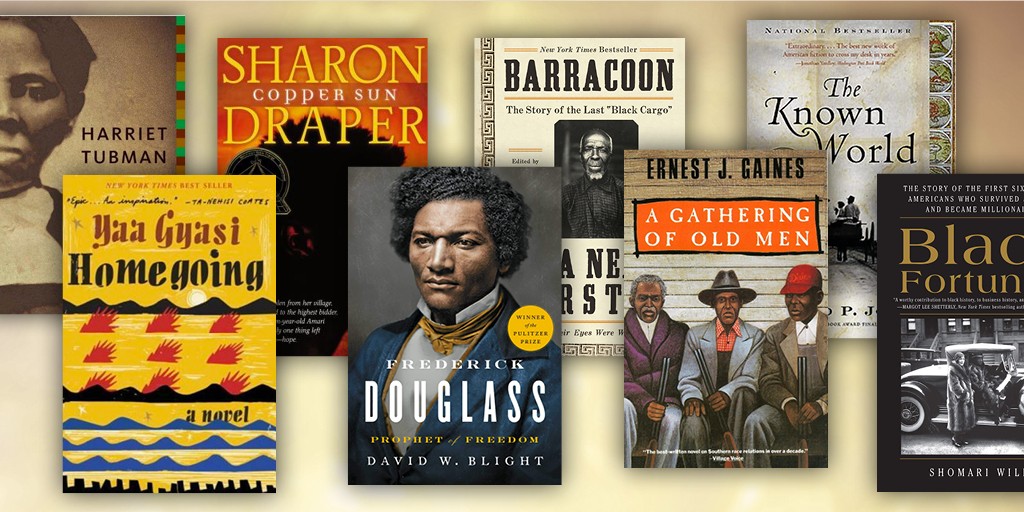 Celebrate Juneteenth with the library and this list of titles available at HCPL. Juneteenth commemorates the end of slavery in the United States. Based on the words "June" and "Nineteenth," the celebration started to commemorate an order issued by a Union general that formally freed all enslaved people in Texas on June 19, 1865.
Though Lincoln's Emancipation Proclamation was issued in September 1862 and took effect on January 1, 1863, it was not until the end of the Civil War and the freeing of the enslaved in Texas that slavery as an institution was formally abolished in the United States.
While black Americans in Texas started the tradition of Juneteenth, it spread across the entire country over the 100 years following 1865. Isabel Wilkerson wrote in The Warmth of Other Suns: The Epic Story of America's Great Migration that, "The people from Texas took Juneteenth Day to Los Angeles, Oakland, Seattle, and other places they went." Over 40 states, including Virginia, now officially recognize Juneteenth as a holiday or day of recognition, and there are countless local celebrations that take many forms.
This booklist gathers titles about people whose lives bridged the eras of slavery and abolition, who played roles large and small in securing freedom.
A Gathering of Old Men by Ernest Gaines – Set in Cajun country in the 1970s, this book has the narrative drive of a play. It mostly takes place over the course of a day when Cajun farmers and a local sheriff confront a black community about the murder of a white man. The book is tense and suspenseful, with memorable characters and potent symbols that illuminate how the legacy of slavery remains present in America long after Emancipation.
Black Fortunes: The Story of the First Six African Americans who Escaped Slavery and Became Millionaires by Shomari Wills – This book contains stories of powerful innovators and unforgettable historical figures who overcame systemic oppression in order to reach financial greatness. Read about the accomplishments of Mary Ellen Pleasant, Robert Reed Church, Hannah Elias, and others.
Barracoon: The Story of the Last "Black Cargo" by Zora Neale Hurston – Hurston is best known for her novel, Their Eyes Were Watching God, but her work as a folklorist captured many narratives that would otherwise have been lost. This previously unpublished manuscript is about the life of Cudjo Lewis, one of the last surviving men from the last ship Clotilda, who was kidnapped, transported across the Atlantic, and sold into slavery, half a century after the slave trade had been legally abolished. The book is based on interviews he gave beginning in 1927. Lewis's voice is an important addition to the stories of those who experienced life as an enslaved person.
The Known World by Edward P. Jones – Jones won the 2004 Pulitzer Prize for this historical novel. Henry Townsend, a formerly enslaved black man whose freedom is secured through his own father's purchase of manumission, becomes a slave owner in 19th century Virginia. For those interested in a fictional narrative that reveals complicated truths about the institution of slavery, this book is a great choice.
Harriet Tubman: The Road to Freedom by Catherine Clinton – Tubman is known to most Americans by name and in general, but specifics of her life are less widely understood. She was the most famous "conductor" on the Underground Railroad, did dangerous work for the Union Army during the Civil War, and had a huge influence on activism from her own time to ours. Clinton's book is the first full-scale biography of Tubman and remains one of the most thorough examinations of her life.
Frederick Douglass: Prophet of Freedom by David W. Blight – This biography follows the style of other popular, narrative works published recently by Ron Chernow, Jon Meacham, and Laura Hillenbrand, presenting a detailed, chronological, thoroughly researched version of Douglass's life. A long but not unduly challenging read, Blight's book is perfect for the person who wants to "know it all" and gain an understanding of even the lesser known parts of Douglass's story.
Copper Sun by Sharon Mills Draper – A work of historical fiction by one of the most popular Young Adult authors, Copper Sun is the story of two girls (one who is enslaved and one who is an indentured servant) who escape from a Carolina plantation and their journey to reach a Spanish colony in Florida where they will be free.
Homegoing by Yaa Gyasi – This book has been featured on many recommended reading lists since its publication in 2016. Two narrative tracks are used to tell stories influenced by slavery and its aftermath. The main characters are two half-sisters born in 18th century Ghana, one of whom is enslaved and taken to America. Their lives and the lives of their descendants are the subject of Gyasi's detailed, emotional, historical character study.
Stay Informed
When you subscribe to the blog, we will send you an e-mail when there are new updates on the site so you wouldn't miss them.
Comments
No comments made yet. Be the first to submit a comment