Get in the Spirit of All Henrico Reads with One of These Teen Thrillers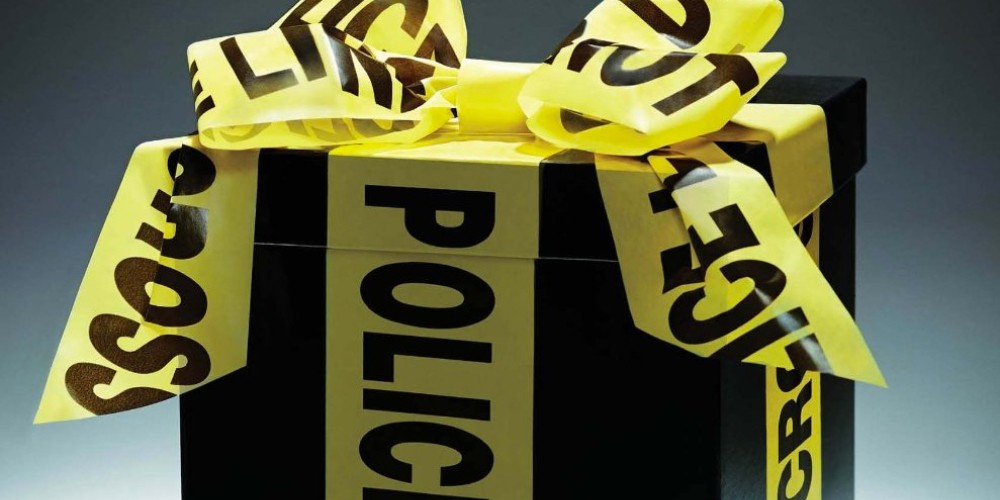 Calling all super sleuths! Can you spot a plot twist coming from a mile away? Can you identify the murderer by the fifth… no, third chapter? Then look no further.
Whether you're in the mood for murder, keen on kidnapping, or thirsting for thievery, be sure to stop by your local library today to pick out a mystery that's sure to leave you guessing. Don't forget to check out the list below for some great teen thrillers!
In the meantime, All Henrico Reads is just around the corner! This year's pick is After Anna by Lisa Scottoline. After Anna is a riveting thriller, which follows Maggie, a suburban mother who becomes an unlikely sleuth, investigating the murder that tore her family apart as her accused husband is tried in court. Join us on April 10 at 7:00 pm at Glen Allen High School (10700 Staples Mill Road) to hear Lisa Scottoline speak and sign books afterward.
City of Saints & Thieves by Natalie C. Anderson – Tina has been working as a thief for a local street gang in Kenya for the past four years. Practicing being invisible, and learning all the dark secrets of the powerful families in the city. Tina has been patiently waiting to get close to the Greyhill family because Mr. Greyhill killed Tina's mother six years ago. And Tina has been plotting revenge. This is one nail biter of a thriller that will have you holding your breath as you read! Standalone.
Small Spaces by Katherine Arden – Eleven-year-old Ollie finds comfort in books, so when she happens upon a crazed woman getting ready to throw a book into the river, Ollie acts without thinking and grabs the book and runs away. The book turns out to be a chilling story about a girl named Beth and a "peculiar deal" she made. Enchanted by the spooky tale, Ollie can't help but wonder if it's true. She doesn't have too long to think about it when on a school trip to a farm, she finds graves with the names of the very people she has been reading about. Their school bus breaks down outside the farm, and the farmer doesn't offer much help, except to warn them to make it out by nightfall—or else "they" will come for you. This is one suspenseful ghost story! First in a series.
The Naturals by Jennifer Barnes – Cassie can look at anyone and tell if they're lying. It's this talent that makes her a worthwhile addition to the Naturals, a team of super-talented teens who help the FBI find serial killers. But Cassie has a secret motivation of her own. Can she figure out who killed her mother? First in a series.
Spin by Lamar Giles – Paris Secord, aka DJ ParSec, is an up-and-coming DJ posed for fame and fortune. Or rather, she was. When Paris turns up dead, her best friend Kya and chief groupie Fuse find themselves at odds, each blaming each other for her death. Somewhere out there, the real killer is watching and waiting. Kya and Fuse will have to work together to find the murderer before the murderer finds them too. Standalone.
Scream Site by Justina Ireland – Fourteen-year-old Sabrina dreams of being an investigative reporter when she grows up. Hoping to land an important internship, she decides to investigate the popular horror website "Scream Site" where people compete to post the scariest videos online. As Sabrina starts digging into the website, she realizes some of these clips actually seem a little too REAL. When Faith, Sabrina's sister (and a big fan of the website) goes missing, Sabrina has to fight against time before her sister becomes part of the next top video on Scream Site. Standalone.
Monday's Not Coming by Tiffany D. Jackson – Claudia and Monday are inseparable, looking forward to the first day of school. When Monday doesn't show up, Claudia knows something is wrong, but no one – not her parents, Monday's mother, or her teachers – will take her seriously. It's up to Claudia to figure out what happened to her best friend. Standalone.
I am Still Alive by Kate Alice Marshall – Jess is stranded in the woods with just her dog. Her cabin has burned down, her supplies are running low, and winter is coming. Jess needs to stay alive, not only to save herself, but to avenge her father's death. An engrossing and suspenseful survival. Standalone.
Truly Devious by Maureen Johnson – Stevie is a detective, and her abilities land her a spot at Ellingham Academy, a fancy boarding school for talented teens in Vermont with a decades-old mystery of its own. In the early 19th century, shortly after the school opened, the wife and daughter of the founder were kidnapped and were never found. Stevie plans to solve the case, but the past has a way of catching up with the present, and this mystery isn't over. First in a series.
One of Us Is Lying by Karen McManus – "Pretty Little Liars meets The Breakfast Club". When the school's number one gossip mysteriously dies during detention, his classmates—a jock, a beauty, a nerd, and an outcast–all become center of an investigation when the death is ruled a murder. No one is safe in this fast-paced mystery! Standalone.
Two Can Keep a Secret by Karen McManus – Twins Ellery and Ezra find themselves back in their mother's hometown in Vermont for the school year. It's a quaint and quiet town riddled with secrets. Ellery's own aunt went missing in the same town, never to be found. So when, in the first week of moving to Echo Ridge, another girl goes missing, Ellery finds herself more involved in trying to solve the case than she may have meant to be. This thriller is full of twists and turns that will keep you guessing! Standalone.
The House in Poplar Wood by Katie Ormsbee – The Vickery twins can only leave the house once a year on Halloween. The rest of the year, they must follow the Agreement. Lee works for Memory. Felix works for Death. Everything changes one Halloween when Gretchen whips into their lives, promising them a way to break the Agreement if they help solve a girl's murder. But as they investigate, they realize not everything is as it seems, and if they can't solve the case, there may be more deaths. Standalone.
Four Dead Queens by Astrid Scholte – Seventeen-year-old Keralie is one of the kingdom's best pickpockets and liars. Varin, on the other hand, is just the opposite. He finds himself mixed up with Keralie when she steals a package from him, putting his life in danger. When Varin tries to get the package back, he and Keralie both find themselves entangled in a royal conspiracy that leaves all four of Quadara's queens dead. This is a fast-paced thriller that will appeal to fantasy fans. Standalone.
Sadie by Courtney Summers – Abandoned by their mother at a young age, it was Sadie and Mattie against the world. Until the day that Sadie's world shatters. The day that Mattie is found dead. Murdered. So Sadie disappears, on the hunt for a killer and her past. Several months later, West rolls into town on a mission to track down Sadie at her adoptive grandmother's request. His investigations spawn a podcast as he tries to find Sadie before it's too late. Told in chapters that alternate between Sadie's narration and West's podcast, Sadie is a mystery that will grab you by the heart and haunt you long after you've finished. Standalone.
Looking for more? Ask a librarian for more suggestions next time you are in the library or request a list of your own with My Next Read.
Stay Informed
When you subscribe to the blog, we will send you an e-mail when there are new updates on the site so you wouldn't miss them.
Comments
No comments made yet. Be the first to submit a comment