As part of the Citizen Science movement, we are hosting several Birding Workshops this month! Families are invited to learn the best ways to spot birds in the wild, do a fun bird craft, and practice your bird watching skills outside at the library.
Varina Library is welcoming Maria Gianferrari, the Virginia Reader's Choice Award-winning author of Coyote Moon, who will discuss urban ecology, birding, and her new book Hawk Rising.
Hawk Rising by Maria Gianferrari - Illustrated by Brian Floca - Virginia Reader's Choice nominated author (Coyote Moon) and Caldecott winning illustrator (Locomotive) team up for a beautiful book about a suburban kid watching a red-tailed hawk as it hunts for its next meal. Great introduction to urban ecology.
These programs are best suited for children ages 4 and older with a caregiver.
Backpacks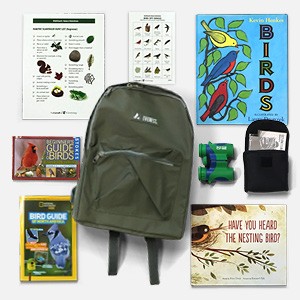 If you are unable to attend one of our workshops, check out one of our Birding Backpacks! Each kit includes a pair of child-size binoculars, assorted picture books about birds and birdwatching, easy-to-use field guide of Eastern birds, and laminated activity cards. These kits, like our Nature Kits, check out for 14 days.
Books
Also, check out these great children's books all about birds!

Mama Built a Little Nest by Jennifer Ward and Illustrated by Steve Jenkins - Rhyming text and beautiful artwork combine to explore the types of nests birds build.

Have You Heard the Nesting Bird? by Rita Gray and Illustrated by Kenard Pak - A lovely introduction to the songs that birds sing and clever ways we try to represent them using human language. The perfect book for young naturalists who want to learn to identify birds by their songs.

The Someday Birds by Sally J. Pla - While dealing with his world turned upside down, a boy sets a goal to see all the birds on the "someday" list that he and his father made.

Moonbird by Phillip Hoose - A fascinating nonfiction book for upper elementary readers about one bird that has migrated back and forth from the bottom of the world to the top, logging more miles than the distance from the Earth to the Moon!